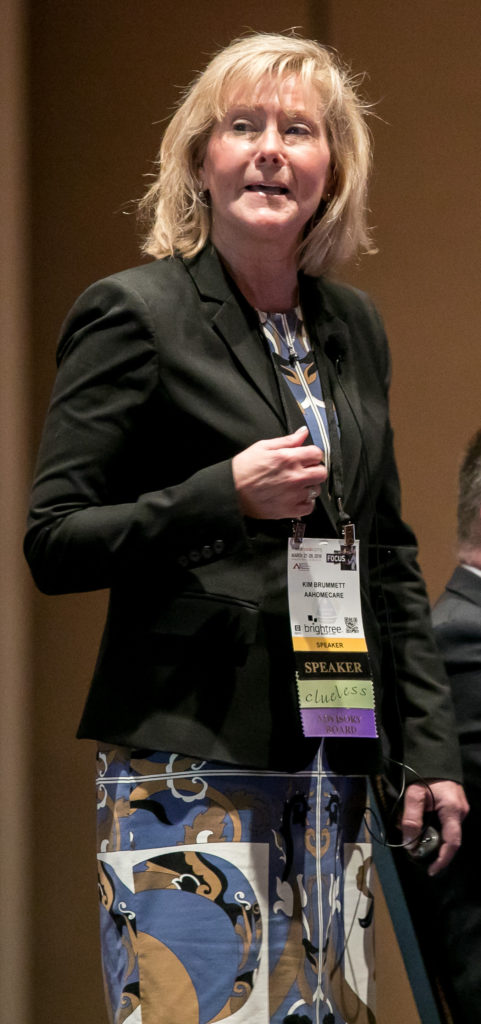 WASHINGTON, DC – As AAHomecare reported on Monday, new calculators are now available at dmecbpeducation.com that allow suppliers to see how CMS' new lead item bidding methodology will impact rates for other related items in 16 bidding categories for CB Round 2021.
The new calculators use the ratios derived from the CBIC calculator but have additional features that provide more contextual information, including rates currently in effect and results that show how bids entered will compare to rates for non-lead items in both dollar amount and by percentage.
Kim Brummett (pictured), AAHomecare's vice president for regulatory affairs and Mina Uehera, regulatory affairs associate director, looked at the calculator from the perspective of a bidding supplier to determine what functions would be most useful.
They believe that showing bid ceiling and the current rates will be especially helpful for suppliers as they test potential bid rates, as will the ability to instantly see how results for non-lead items compare to current rates.
Their efforts also included verifying multiple nuanced functions of the calculations, such as:
Bid ceiling verifications
Calculations when capped rental is the lead item
All the new repair and replacement codes included in wheelchair product categories
Reviewing modifiers
Reviewing calculation ratios
Reviewing product categories against the previous categories and AAH recommended categories
Developing formulas to disallow bids above the current bid ceilings.
The AAHomecare team is already at work on further enhancements to the calculators, including a feature that would highlight which non-lead HCPCS codes were responsible for the highest overall spend in categories based on 2017 information from CMS.  This will allow suppliers to focus on those HCPCS codes in a category with the most potential impact on the bottom line.
Brummett and Uehara especially appreciate the support and assistance provided by members of AAHomecare's Regulatory Council in developing and testing this important new resource.  Find the new calculators at dmecbpeducation.com/bid-calculator.
Plan Now to Meet 2021 Bid Bond Requirement
Other changes for Round 2021 include a requirement that bidders are required to obtain a bid surety bond in the amount of $50,000 for each CBA for which they submit a bid.  Bid surety bonds must be obtained from an authorized surety, which can be found on the listing of Certified Companies on the Department of the Treasury's website.  These bonds are NOT the same as the surety bonds required for DMEPOS supplier enrollment purposes.
AAHomecare members are invited to contact VGM Insurance Services for exclusive member discounts on Bid Bond pricing. If you have any questions about Bid Bonds, or would like to learn more about the application process, visit vgminsurance.com/bidbonds or contact the VGM Insurance Bond Department at bondinfo@vgm.com, or call 866-497-0472 to reach the VGM Bond Hotline.
Get prepared now to #BidSmart in CB Round 2021.  See dmecbpeducation.com
Chandler Settles Into New AAHomecare Role
WASHINGTON, DC – David Chandler has wasted no time getting into his new role as director of Payer Relations at AAHomecare, joining Laura Williard for a strategy session and a subsequent meeting with NC Medicaid – all on his first day as a member of the team. Chandler brings experience and perspective from 16 years working in the HME field and leadership roles with ACMESA, the Jurisdiction C Medicare Advisory Council, and AAHomecare's Regulatory Council and State Leaders Council.