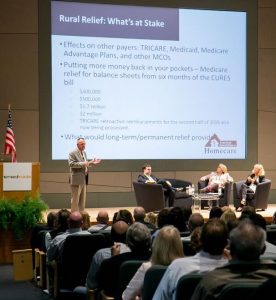 WASHINGTON, DC –Rural relief/O2 fix legislation got its bill number last week. H.R. 4229 was  introduced with 53 original co-sponsors besides Rep. McMorris Rodgers (the Democrat lead on the bill, Rep. Loebsack, is counted among the 53 co-sponsors). Find the complete updated co-sponsor list here.
The legislation, sponsored by Reps McMorris Rodgers (R-Wash) and Dave Loebsack (D-Iowa), would effectively roll back the second round of cuts for non-bid area suppliers, retroactively to January 1, 2017 and running through 2018, and also fixes an outdated 2006 budget neutrality offset that is causing reimbursements for stationary oxygen products to fall below competitive bid rates in some rural areas. See bill language here.
If your House member is not on the list of original co-sponsors, please call or email the legislative assistant who handles healthcare issues and ask that they sign on as a co-sponsor of H.R. 4229.  You can also make the following points in your communications:
The legislation would roll back the second round of cuts for non-bid area suppliers, retroactively to January 1, 2017 and through 2018.
The legislative language would also remedy additional rate cuts for oxygen in rural areas caused by an outdated 2006 budget neutrality offset balancing increased utilization for oxygen generating portable equipment with lower reimbursement for stationary equipment.
A new survey of Medicare beneficiaries, case managers/discharge planners, and home medical equipment suppliers, finds that the bidding program has negatively affected beneficiaries' access to HME, adversely impacted case managers' ability to coordinate HME for their patients, and placed additional strain on suppliers to deliver quality products without delay.  For example, 77% of hospital case managers report difficulties with the ease and timeliness of the discharge process for patients who require HME. You can share a link to the full report and highlights here.
"The strong original co-sponsor support for this legislation demonstrates Congress' appreciation of the urgent need to get back to a sustainable reimbursement schedule for suppliers serving patients in rural communities," said Tom Ryan, president & CEO of the American Association for Homecare.  "I hope that HME suppliers and other stakeholders in our industry will let their Representatives in the House know how important this legislation is for their ability to serve patients in rural America."
"There's no getting around the fact there are a lot of other issues competing for attention on Capitol Hill as we enter the last two months of the year," continued Ryan.  "It's critical that the HME community makes its voice heard in support of this bill over the next few weeks to build support for H.R. 4229."
Contact Gordon Barnes at gordonb@aahomecare.org if you need any assistance reaching out to your legislators, including contact information for the healthcare legislative assistant with your Rep's office.