WASHINGTON, D.C. – Mobility stakeholders and patient group leaders are preparing for an expected opening of the National Coverage Determination (NCD) for seat elevation and standing systems for power wheelchairs. AAHomecare is working with the ITEM Coalition to prepare to publicize the NCD and help generate a strong public comment response from the HME community, mobility device users, and other interested groups.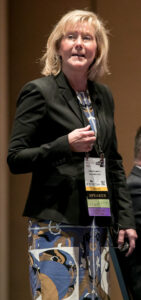 Medicare does not currently cover seat elevation and standing systems in power wheelchairs, viewing these systems as "not primarily medical in nature." The opening of the NCD will allow mobility stakeholders, clinicians, patients, and caregivers an opportunity to help change that policy and allow individuals with significant disabilities to benefit from Medicare coverage for these devices.
As mobility providers and manufacturers mark the 32nd Anniversary of the Americans with Disabilities Act this week, we can celebrate the resulting major societal and technological advances that have enhanced the quality of life for people with significant challenges and their caregivers. Soon, we will have an opportunity to add to that legacy by strengthening access to seat elevation and standing systems.
AAHomecare is preparing to help the HME community and the mobility patients we serve make a passionate and effective case for taking advantage of the best available technologies to support individuals with disabilities. The NCD will likely only be open for a 30-day comment period, so we will need YOU to help us deliver a strong message to Medicare policymakers. Stay tuned!
Policy Roundtable Set for August 3
You can learn more about the potential of these devices and implications for coverage by attending a virtual online policy roundtable on seat elevation and standing systems hosted by the National Council on Disability – Wednesday, August 3 – 1:00-3:00pm (ET).  This stage-setting event will feature perspectives from Congress, persons with mobility disabilities, clinicians, and other stakeholders.  See program details and register here.