WASHINGTON, DC – While AAHomecare remains focused on legislative and regulatory strategies to move the industry forward, the organization's investment in payer relations has produced impressive returns for HME providers in the first year focusing on this area.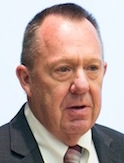 "With increasing pressure to save money on state budgets, it's critical that we have a strong capability to help respond to proposed Medicaid rate cuts and rally providers and state associations to advocate for fair reimbursement policies," explains Tom Ryan, AAHomecare's president and CEO.
In just one year, AAHomecare has been successful in stemming the tide and in some cases reversing further cuts with the help of state associations, utilizing a multi-pronged approach.
New Tools: With the aid of AAHomecare's Dobson DaVanzo Study which analyzes the full operational costs plus cost of goods against the current Medicare reimbursement environment, the industry has effectively negotiated pricing agreements for DMEPOS providers with state and national payers.
AAHomecare also created outreach materials to use with TRICARE contractors and the Defense Health Agency regarding CURES-mandated reimbursement adjustments and provided education for the industry regarding the contract changes occurring January 1, 2018.
Legal Avenues: After consulting with legal staff on how the CURES Bill impacted TRICARE, Medicare Advantage, and Managed Care payers, AAHomecare provided a reference for the industry to use in discussions with payers on getting July-December 2016 claims reprocessed. The Association also worked with Brown & Fortunato to obtain legal opinion on the rights and responsibilities of the states in implementing CURES language.
In conjunction with state associations, AAHomecare also developed a list of questions to be sent to Medicaid Directors and to CMS for guidance and direction. The Association continues to follow-up with CMS as no direction has been provided, but we have been told the agency is working on it.
State and Private Payer Relationships: Over the course of the year, AAHomecare has built relationships with many private payers that directly impact the health of our industry and future reimbursement decisions. On the national level, payers included Anthem, TRICARE, the Defense Health Agency, AIM Sleep Management, and Carecentrix. We believe these relationships will build to greater impact on policy and operational changes for HME providers.
At the state level, AAHomecare has worked with regional associations to secure wins in several states who were following suit with Medicare reimbursement. These include working with NEMEP to secure a freeze of current rates until further notice with the New York Medicaid Incontinence Program. AAHomecare also joined Big Sky Association of Medical Equipment Suppliers to evaluate strategy and create a white paper for presentation to BCBS Montana regarding reimbursement cuts to the 2017 fee schedule. Further, in conjunction with the Maryland-National Capital Homecare Association, AAHomecare worked to establish a strategy for fighting pricing cuts with DC Medicaid. We have received notice the Agency is evaluating the information given and analyzing the budget before finalizing decisions, but expect changes to be made.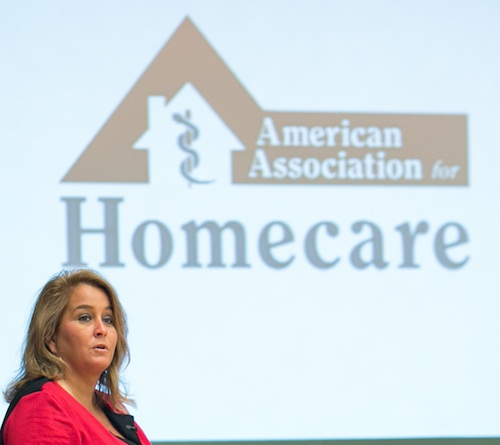 Williard Elevated to Vice President
WASHINGTON, DC – These efforts on behalf of AAHomecare have been led by AAHomecare's Laura Williard (pictured), who the Association has just promoted to vice president of Payer Relations. "Laura Williard has brought significant expertise and energy to her role as leader of our payer relations efforts," said Ryan. "She has gained a great deal of credibility with HME providers and has established solid relationships with state healthcare stakeholders and other major payer organizations.
"Laura has accomplished a great deal in her first year as a part of AAHomecare, and we expect more great results in payer relations going forward," Ryan added. Williard will continue to push and reach out to the Defense Health Agency and contractors to get a CURES fix implemented. Williard is also working to obtain CMS direction regarding CURES implementation.
Williard's work also includes assisting with several Council Workgroups including the Respiratory, Hi Tech and Trach Work Groups, and she serves on several state association boards and committees. In addition, she is currently working with state leaders to educate payers including BCBS Arizona, BCBS Michigan, BCBS Western New York, BCBS Montana, BCBS North Carolina, North Carolina Medicaid, and Massachusetts Medicaid.
Laura can be reached at LauraW@aahomecare.org – and follow her on Twitter: @WilliardLaura.
More Support Needed for Senate Sign-on Letter – Deadline is July 11
WASHINGTON, DC – As noted last week, Senators John Thune (R-S.D.) and Heidi Heitkamp (D-N.D.) have released a Congressional sign-on letter focused on relief for rural/non-bid area providers who are now subject to competitive bidding-derived prices.
AAHomecare has learned via VGM that deadline for the letter has been extended to Tuesday, July 11, so action is needed soon. Please call or email your Senators' offices and let the health care staff know that you are a constituent who wants your Senator to sign the letter.
You can use the Grassroots Action Center if you don't have an email address for healthcare staff in their offices, and you can also share that link with your patients, co-workers, and other individuals who may be interested in supporting this effort. Senate offices can contact Senator Thune's staff to sign on. Find the full text of the letter here.
Long-time AAHomecare Members Demonstrate Commitment
WASHINGTON, DC – In June, AAHomecare recognized its long-time members who have been a part of the association for 25 years or more. Those whose membership is 15-24 years strong also deserve recognition.
Members for 20-24 Years
Attleboro Area Medical Equipment Co.
Harburg Medical Sales Company
Coral Medical
Pride Mobility Products Corporation
Wright & Filippis
Millennium Respiratory Services
Bay State Medical, Inc.
Maryland-National Capital Homecare Association
Morsch Medical Equipment, Inc.
Pacific Island Medical, Inc.
Health Care Reimbrusement Solutions, Inc.
Association Services, LLC
Atlantic Coast Medical Services Association
Barnes Healthcare Services
BLACKBURN'S/HAR-KEL
Byrd Watson Medical Equipment Company
Gammie Homecare
Georgia Association of Medical Equipment Services
Great Lakes Medical Services Association
Med-South, Inc.
Michigan HomeCare & Hospice Association
Midwest Association for Medical Equipment Services
Ohio Association of Medical Equipment Services
Pennsylvania Association of Medical Suppliers
Roberts Home Medical
Seeley Medical
Wellspan Medical Equipment
West Virginia Medical Equipment
Home Care Alliance of Virginia, Inc.
Miller's Rental & Sales Co.
Members for 15-19 Years
Home Respiratory Care
Nevada Association of Medical Products Suppliers
McKinley Medical Supply
California Association of Medical Product Suppliers
Children's Hospital Home Health Care
MK Battery
Advanced Home Care
Arkansas Valley AccuMed
Denman Services, Inc.
Great Plains Homecare Equipment
Medical Service Company
MEDISERVE Medical Equipment
Professional Pulmonary Service, Inc.
Shield Healthcare Centers, Inc.
Virginia Association for Home Care & Hospice
Specturm Medical, Inc.
AlternaCare Home Medical equipment
Health Law Center
Pacific Association for Medical Equipment Services
Big Sky Association for Medical Equipment Services
Brevard Medical Equipment
Hope Medical Supply
Health Complex Medical
Health Aid of Ohio, Inc.
ECS Billing & Consulting North
Family Medical Supply
Colorado Association for Medical Equipment Services
Kentucky Medical Equipment Suppliers Association
BritKare Home Medical
Oxygen One, Inc.
ResMed
Hawaiian Island Medical
Atlantic Respiratory Services
Southern Medical Equipment Corporation
Mid Delta Durable Medical Equipment, Inc.
Brightree LLC
Drive DeVilbiss Healthcare
Fairmont Home Medical
Fairmeadows Home Health Center, Inc.
Hoveround Corporation
Star Medical
(companies are listed in order of length of membership in AAHomecare)
Membership in the national association provides the HME industry a stronger voice in Washington D.C. These companies support the initiatives of the HME community, seeking stronger policy and reimbursement procedures for the industry. If you know of any HME industry peers who would like to learn more about our work and the benefits of membership, contact Michael Nichol at michaeln@aahomecare.org.