AMARILLO, TX – Medtrade 2017 just wrapped up, and it was a success. What made it a success was the sophistication and optimism of the attendees.
To quote President Reagan, let's "take a stroll down memory lane." Medtrade has been in existence for about 40 years. For the first 30 years of its existence, DME suppliers were not burdened with (i) competitive bidding, (ii) auditors on steroids and (iii) rock bottom reimbursement.
As such, suppliers had the money to provide products and exceptional services to their patients. Additionally, suppliers had the money to send multiple employees to Medtrade. Medtrade drew about 15,000 people. It was exhilarating. And, relatively speaking, there was not a lot pressure on the suppliers. While the attendees took Medtrade seriously…they did not take the show too seriously.
 Well, that was then…and this is now. "Leave it to Beaver" has been replaced by "Modern Family." Today's Medtrade is a different animal. About 4,000 people attend and the show takes up a smaller portion of Atlanta's World Congress Center.

But here is the big difference…the people who attend want to be there; they were not just sent by their employer. The attendees are serious and want to gain as much knowledge as they can…from the exhibition floor…from education sessions…and from networking. The attendees understand that money and time are precious.
Equally as important, many of the attendees are not burdened by "the way it used to be." For many years, attending Medtrade was like attending a high school class reunion: I saw the same faces year after year. This is no longer the case. A large number of the attendees have been coming to Medtrade for less than five years; indeed, a large number of the attendee have been in the DME space for less than five years.
They don't care that oxygen used to be a lifetime benefit; they don't care that competitive bidding once did not exist; and they don't care that the industry used to be relatively audit free. They did not grow up watching "Leave it to Beaver." Rather, many of the attendees are focusing on the "here and now" – that is – they are focusing on the tsunami of 78 million Baby Boomers who are retiring at the rate of 10,000 per day. And so today's Medtrade attendees see opportunity. They are watching "Modern Family."
And many of the "old timers" who attend Medtrade have pushed themselves out of their comfort zone, they are forgetting the past, and are looking at the industry the same way as the newcomers are looking at the industry.
The classes I taught were full of students who were educated, confident, and excited about tackling the DME industry…warts and all. Medtrade is truly the "crossroads" of the DME industry. Only at Medtrade does the industry come together as one. Only at Medtrade can attendees interact with other DME suppliers, pick the brains of experts, and "touch and feel" new products. In short, Medtrade is for the serious.
Medtrade Spring (Las Vegas) is approaching in the spring. It is a smaller, more intimate, version of Medtrade Fall. Like Medtrade Fall, Medtrade Spring is for the serious. See you there.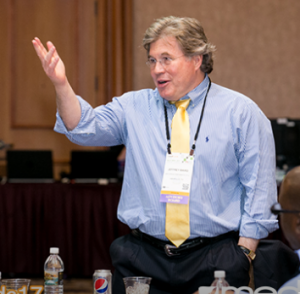 Jeffrey S. Baird, JD, is Chairman of the Health Care Group at Brown & Fortunato, PC, a law firm based in Amarillo, Tex. He represents pharmacies, infusion companies, HME companies and other health care providers throughout the United States. Mr. Baird is Board Certified in Health Law by the Texas Board of Legal Specialization, and can be reached at (806) 345-6320 or jbaird@bf-law.com.