ALBANY, GA – Fostering good communication within a multi-location DME company can be challenging in the best of times. Toss in a global pandemic, and questions quickly outpace answers.
Tyler Riddle (pictured), CEO of Albany, Ga.-based MRS Homecare Inc., admits that there can occasionally be a "disconnect" among his company's 11 locations stretched out in 11 cities within the Peach state. When the global pandemic hit, the disconnect quickly got connected, mostly by necessity.
"The main thing I can take away from the past few months is that the pandemic has really motivated us to open the lines of communication among all of our 11 branches and our different divisions at MRS," Riddle says. "That's been the biggest strategic opportunity that we've seen."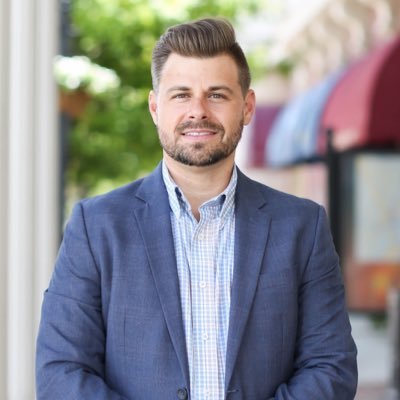 MRS Homecare is a family operation started in 1980 by Tyler's father. With the company's 40-year anniversary looming, it's a chance to reflect on the past, as well as ponder the future. After graduating from the University of Georgia in 2007, Riddle did not think he would be part of the MRS legacy.
Like so many who grew up in the business, he was all too familiar with wiping down wheelchairs and driving delivery vans. When leadership changes happened at MRS shortly after Riddle's graduation from college, an opportunity presented itself. Thirteen years later, he has found his passion doing all he can to navigate the world of HME and now the world of COVID.
Medtrade Monday sat down with the 37-year-old Riddle to get his take on the past few months and how it has shaped his views on company-wide communication.
Medtrade Monday: How did your communication philosophy change during the pandemic?
Riddle: We no longer treated our company as essentially 11 franchises. When you stretch out a company over 11 different cities in a state as big as Georgia, there's a disconnect. The pandemic forced us to have conversations. It gets all my branch managers together via Zoom and via conference calls. We discuss how we can get out in front of referrals. What are you doing about reopening your showroom? How are you managing these different challenges as they pop up? It has been a really eye opening opportunity for us to see just how well we can communicate with each other. That's been my biggest takeaway from all of this. Most people want to harp on the negative aspects of COVID-19, and there are tremendous negative aspects of it. We're adapting and making changes. We've had a rejuvenation.
Medtrade Monday: What did your new communication look like?
Riddle: My team of admin folks—my two VPs, my CFO, and my billing director, along with all 11 of our branch managers and division heads—were doing daily afternoon conference calls. We were getting on our system, calling each other, and I'm going to give a rundown of what happened that day, what's going on, what I'm hearing out of Atlanta, what I'm hearing locally. And I would ask; Does anyone have anything to offer up? From there, we would create the plan for tomorrow.
We didn't know how long is this virus living on surfaces? How long is it living in the air? Can you get this by looking at someone too hard? We didn't know what we didn't know. We took it very seriously very quickly, but we realized that we were over communicating at that point. So I said, 'You know what, we're going to swap this out. I'm going to do one big call on Monday, and then we'll do one at the end of the week to kind of pow wow about how the week went.'
When Monday rolled around, we'd do a Monday planning and then a debrief on Friday. What was great about it is that my branch managers got together and decided that they were going to do a call which evolved into a Zoom meeting more frequently than that. They were going to do it once a week independent of the main administration call where we kind of talked and debriefed. They really kind of took that among themselves and started early on communicating about what's going on here in my town. They were really good about that, and it really strengthened those Monday and Friday calls because they had a lot of information that they had created themselves during the week, and we were able to hear that on those Friday debriefs.
Medtrade Monday: When did the virus get on your radar?
Riddle: We saw it, and we said, 'Okay let's look at the reality of something like this happening' and this is around February or so. By March, we were really starting to look at the possibility of this coming and being an issue. We actually sent our first intra-office memo out to all the employees around the first or second week in March. We said, 'Guys, this is going to hit us like a ton of bricks. We're looking at the governor shutting down the state and schools being shut down and all of this stuff. Let's go ahead and get prepared.'
Medtrade Monday: What was the situation with referrals?
Riddle: We figured out early on that communicating with our referral sources was going to be vital in this. We're using different things, so to answer this question I have to give you another answer of how we are operating now. I always tell folks my ultimate goal was for all 11 branches to operate exactly the same as all the other branches. I could in theory pick up employee A in this location and drop them in another location and they just fit seamlessly into the machine and can work just like they've always been there, even though it may be a town four hours away.
What we realized during the COVID process is that that's not the best strategy. I cannot shoe-horn in a strategy that may work in one location because it may not work in another location. We've had to be really flexible about that. I traveled to all the branches recently and said, 'I'm not going to force your office into operating exactly like everybody else. Yes, I still expect the same documentation requirements, paperwork requirements, and I expect for you to make your deposits on the same day and all of that stuff, but you can make appropriate adjustments. The world is your oyster.' If they want to see patients curbside, and feel like that's appropriate, see them curbside. If you feel like your location has a low incidence of cases and you're more comfortable with them coming in wearing a mask, then you run your branch how you see fit locally to maximize success. I think that is working for us.
Medtrade Monday: How has your experience over the last 13 years helped you prepare?
Riddle: I'm second generation in a 40-year business, and I've been doing this full time since 2007. I've watched the onset of competitive bidding, the rise and predatory audits, and the breakups from a handful of third party payers to so many third party payers out there. There are so many different negative things that have affected our industry, and this [pandemic] has been one.
Medtrade Monday: How are staff members responding to these new challenges?
Riddle: My staff are proud to be essential employees, and they're proud to be helping discharge people from the hospital so that intensive care beds in the hospital can be freed up for someone who needs it. We can take care of these people at home. We're seeing some good news come out of this. Potentially we will have delays to competitive bidding, the blend from the rural non-rural rates, and the rise of tele-medicine. The perception of HME has gone from more negative to, 'Hey these guys in HME and DME are an essential part of our local health care system.'

Medtrade Monday: And that perception is widespread?
Riddle: That's the perception among payers, referrals, politicians and at CMS. Since the rise of COVID, we've been asked to participate in several areas on the local COVID-19 response teams. We're meeting with hospital administration more regularly in some of our areas to see how we're handling this and what piece of the puzzle we solve in this. That's been really flattering for my folks. It's been really exciting and I'm an eternal optimist, but this is one that I didn't think I was going to find a silver lining in. This seems to be it.
Medtrade Monday: Tell me more about the company.
Riddle: We have four separate divisions. We do traditional HME/DME, sleep therapy, and what we consider complex respiratory which is home oxygen and ventilation, and then full complex mobility. We operate 11 retail locations, all a mix of product lines and for-cash retail, as well as all of our rental items and things like that. What's been really neat for us is we've done a great job of growing in underserved areas. We do not have a location in Atlanta, Georgia, but we service the Atlanta area from some of our other locations and through some of our certain divisions.
We have locations in places like Thomaston, Ga., where there may not be an HME provider within a 100-mile radius, or Fitzgerald, Ga.—rural areas that traditionally are undeserved. We've found a lot of success in being a one-stop shop in these areas. It's part of what makes us who we are.
My dad retired at the end of 2017, and I took the CEO role at that time. I have the most fantastic staff—a great team that we've spent a long time assembling. We're rural. You hear my voice and my accent. We sound like hillbillies down here in deep south Georgia, but we know what we're doing. We've been doing it for a long time, and I would put us up there with any company in the country as far as our capabilities, network, staff, and skills.
I've got two employees who are over 35 years tenure each. One is actually 39 years, and that's my vice president of Marketing. We have some people who remember the days of the golden commodes and concentrators, but we also have a lot of young people. We have seen nothing but challenges in this industry, or at least I have in my career. It makes us better, more capable, and more aware of how rapidly this industry changes. It allows us to make those decisions and not be afraid to look at new ways if we need to be successful.
Medtrade Monday: The Medtrade show is still scheduled for Nov. 2-4, 2020, at the Georgia World Congress Center in Atlanta. How relevant are trade shows in today's world?
Riddle: Trade shows are still integral to this industry. I believe that Medtrade 2020, or 2021 depending on what happens, will reignite the appetites of all of us in the HME world. I know I'm ready to get out and see my industry friends and partners, and what better place than Medtrade?