LAS VEGAS – Judges have whittled down entrants in the biannual Innovative HME Retail Product Awards (sponsored by HomeCare Magazine), to the final nine.
The finalists (in alphabetical order) are:
• Drive Medical: Flip a Grip
• Grip Solutions: Gripping Solution Products
• Golden Technologies: Nano Tek High Performance Fabric
• Pride Mobility Products: Jazzy Air (Powerchair)
• Roscoe Healthcare/ Compass Health Brands: Free2go Rollator
• Sonic Alert: Home Aware
• Swedo Inc: Swedo Heel Pain Center
• Topricin: Pain Relief Cream
• Vionic: Vionic Pain Free Shoes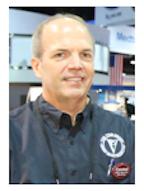 Manufacturer representatives from all nine finalists will make short presentations in a one-hour session, scheduled for Monday, Feb 29, from 4:30 p.m. to 5:30 p.m., room Islander A, at the Mandalay Bay Convention Center, Las Vegas, on day one of Medtrade Spring.
The session will be moderated by Jim Greatorex, Business Development, VGM Retail Services. Panelists/judges will be:
• Mike Sperduti, CEO, Mike Sperduti Companies
• Cindi Ciardo, CEO, Knueppel Healthcare Services
• Rob Baumhover, director of Retail, VGM Retail
The biannual Innovative HME Retail Product Awards are one of several opportunities to grow providers' caretailing component. The awards honor HME products that are particularly suited for retail sale. "I urge Medtrade Spring attendees to visit all the manufacturers who made the top nine," said Kevin Gaffney, group show director, Medtrade. "Also check out the Ideas in Caretail section of the show floor."
After officials from all nine finalists make their presentations, session attendees and judges will vote to determine the top three winners. "I am excited about the Innovative awards this year," says Greatorex. "We have lots of great entries with no clear cut favorite. This will be a can't miss 'open to everyone' session where attendees can see exceptional new product opportunities before the trade show floor opens. People have to come and choose their favorite three products to determine the winners."
Use #MedtradeSpring16 for all show-related social media.