ATLANTA – Last week's Medtrade Monday outlined the retail-focused opportunities planned for Medtrade, scheduled for Oct 15-17, 2018, at the Georgia World Congress Center in Atlanta. Rob Baumhover, director of Retail, VGM Group, will be spreading wisdom during many of the events, including a new breakfast session called Rise & Retail, scheduled for Wednesday, Oct 17, from 7:30 a.m. – 9:00 a.m.
Medtrade Monday caught up with Baumhover to get his thoughts on the upcoming Medtrade events, as well as the state of retail within the HME industry, including impending threats and opportunities.
Medtrade Monday: How did the Rise & Retail event at Medtrade take shape?
Baumhover: VGM proposed the idea of the event to Kevin [Kevin Gaffney, group show director] based on feedback VGM received from its members, and the success of our Brick by Brick Workshops. Members like the opportunity to sit with their peers and us (VGM) in small group settings getting into the weeds of retail best practices. Kevin liked the idea of doing something like this at Medtrade, so we took the lead on planning the event. Medtrade developed the marketing behind it and found a spot during the conference to have it. We're excited at this additional channel to share our expertise with Medtrade attendees.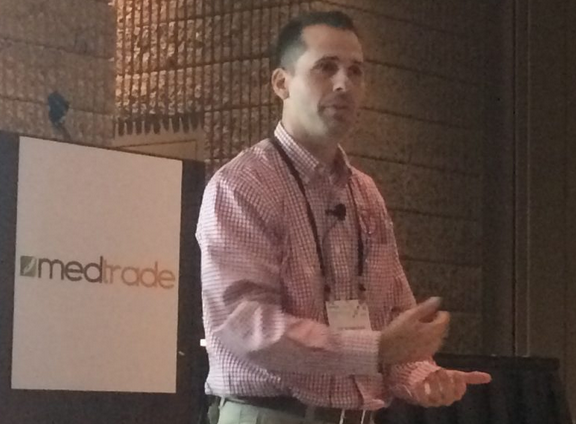 Medtrade Monday: You have a lot of optimism about the future of retail for HME providers, but what are the challenges that you see?
Baumhover: We're hearing from providers about Amazon, and we're talking about it, specifically as it relates on how to compete and how to set themselves apart from that. Look at Walmart trying to compete with Amazon. They are spending millions if not billions of dollars trying to transform their business to be able to compete.
Our providers don't have that and don't need it. It's a different business model. The biggest thing we have is the one-on-one transaction. We look at each business, and what they are trying to accomplish. We talk to providers about how to be different and how to set themselves up so they are not in direct competition with Amazon, but instead taking care of their customers.
Medtrade Monday: What do you have going on at Medtrade (Oct 15-17, 2018 in Atlanta) this year?
Baumhover: We'll be pretty busy. We will be leading the Innovative HME Retail Awards, sponsored by HomeCare Magazine. We will have our panel discussion (Experience Matters). I'll be sitting on AAHomecare's panel. Then there is the Rise and Retail Breakfast, a table at VGM's Power Lunch, and a merchandising contest on the trade show floor showcasing three incremental categories.
Medtrade Monday: How should providers skulk the show floor?
Baumhover: There are a lot of things that providers should be looking for on the trade show floor. In particular, what are some of the new products and margins on those products? Other important items to consider are product packaging, as well as the training and marketing support a vendor can provide.
We are changing up the floor a bit this year as well [at the VGM Booth]. On one side we're going to have three fixtures of incremental add-on products to a particular category; CPAP for instance. If you're big into CPAP, there will be five to ten products to include in your store, and it will be laid out. On the other side of the booth space will be three fixtures with brackets and shelves, and we'll have a contest for people to come up and merchandise it. I'll be looking for vendors to fill that space with product.
Medtrade Monday: What is the biggest misconception these days about succeeding in retail?
Baumhover: The biggest misconception, in my opinion, is that retail is complex. There are a number of resources available to help providers setup and even transform their store, and hire and train the right employees to become more robust in their retail offerings. Other resources can help them choose and merchandise the right products, and market to new and existing customers.
The following events/sessions/areas at Medtrade will deal specifically with HME Retail Strategies:
Innovative HME Retail Product Awards, sponsored by HomeCare Mag
The purpose of the competition is to recognize products that contribute to providers' bottom lines though cash sales. Attendees will listen to presentations from reps of the top eight products (selected by panel of judges) and hear a retail panel discussion of these products. Attendees and judges will then cast their vote to crown three winners. Providers who know of great retail products offered by Medtrade exhibitors are encouraged to call manufacturers and urge them to enter the competition.
Contact Greg Thompson at greg.thompson91@yahoo.com for more information on how to enter.
Session is scheduled for Monday, Oct 15 ⋅ 1:00 p.m. – 2:00 p.m.
Educational Sessions in the Retail & Cash Sales Track
Experience Matters – Build and Grow Your Retail Business Brick by Brick
Monday, Oct 15, 2:15 p.m. – 3:45 p.m. – Room: C205
Retail: Caring for Customers Beyond the Barriers of Insurance
Tuesday, Oct 16, 2:15 p.m. – 3:45 p.m. – Room: C203
How to Drive Two Trains at Once
Tuesday, Oct 16, 4:00 p.m. – 5:00 p.m. – Room: C209
Stop Complaining about Amazon. You have the Competitive Advantage
Wednesday, Oct 17, 9:00 a.m. – 10:00 a.m. – Room: C211
Rise & Retail – Breakfast Roundtables
In this new event, sponsored by VGM Retail, attendees will enjoy a hearty breakfast and then rotate through four roundtable discussions of employee training, marketing, products, and merchandising. Rise and Retail is scheduled for Wednesday, Oct 17 ⋅ 7:30 a.m. – 9:00 a.m. Advance Registration – See Pricing
Retail Spotlight – Hands On with Incremental Sales – On Show Floor
This new area on the show floor will showcase three popular product categories and the complementary items that can generate additional revenue for your business. Put your merchandising skills to the test.
Power Lunch
Wednesday, Oct 17 ⋅ 11:45 a.m. – 1:15 p.m.
Sponsored by: VGM
Moderator: RJ Meyer, senior vice president of Sales, VGM
Advance Registration Required – See Pricing
There will be several tables for various topics. Attendees must select one table to attend when registering and remain at that table during the event.
Retail Table
Best-in-Class Merchandising and In-store Marketing Ideas
Facilitator: Rob Baumhover, director of VGM Retail
Effective merchandising doesn't end with product displays. Without signage, print and other marketing materials, you're stopping short of the finish line. Learn about creating knock-out product displays and how to finish the look with in-store marketing from two retail experts.
Register for Medtrade 2018.