NEWPORT BEACH, CA – Expanding on the popularity of the Hydrophilic Cure Catheter®, Cure Medical is announcing the availability of a Hydrophilic Cure Kit that includes the ready-to-use, 16-inch Cure hydrophilic catheters. "Popular demand for Cure Medical hydrophilic catheters led us to offer the new Hydrophilic Cure Kit to urological sales partners and end users who prefer the sterile technique for self-catheterization and are looking for a quality-made, affordable intermittent catheter that is not made with known carcinogens like DEHP or BPA," Cure Medical CEO John Anderson says.
Cure Medical offers the ONLY sterile, single-use hydrophilic catheter on the market that features:
Smooth polished eyelets for increased comfort
Straight or coude tip
Does not kink when bent
Available in French sizes 12-16
Hydrophilic coating for quick lubrication
Purified water packet for easy, mess-free/stain-free hydration
Textured advancer/gripper for clean, easy catheter insertion
High quality materials, not made with scary chemicals like DEHP*, BPA or natural rubber latex
o  Learn more about the concerns with DEHP here:
https://curemedical.com/ understanding-dehp-health/
Support of research in pursuit of a cure for SCI and CNS/D
Available in USA and Canada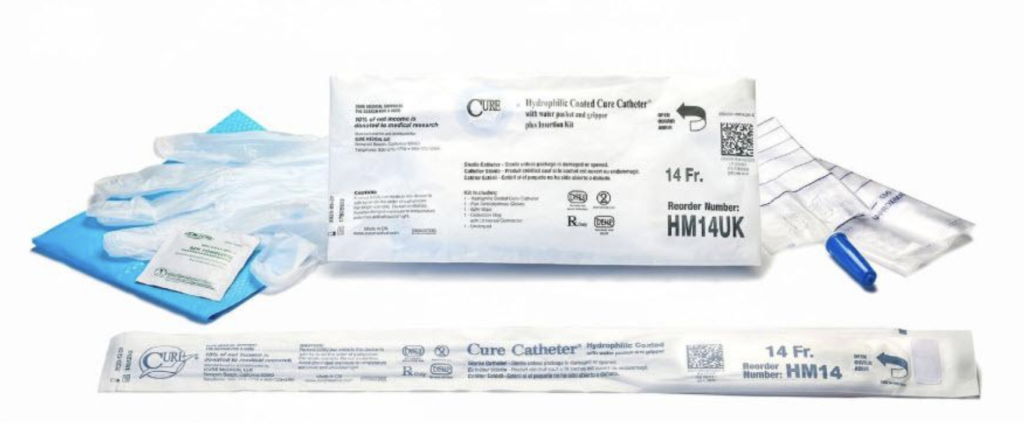 The New Hydrophilic Cure Kit includes:
a hydrophilic Cure catheter,
ambidextrous gloves,
BZK wipe,
underpad, and
collection bag with universal connector.
The Hydrophilic Cure Kit is offered as a case of 90 units in French Sizes 12-16, and is available from qualified Cure Medical distributors and HME providers nationwide. Providers can see related products at Medtrade, scheduled for Oct 15-17, 2018, at the Georgia World Congress Center in Atlanta.