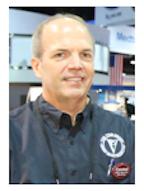 LAS VEGAS – If you know of some great retail products, call up the manufacturer and urge them to enter the biannual Innovative HME Retail Product Awards (sponsored by HomeCare Magazine).
The awards are a tradition at Medtrade Spring and Medtrade to honor HME products that are suited for retail sale, also know as caretailing. Any manufacturer that exhibits at Medtrade Spring, scheduled for Feb 29-March 2, 2016, at the Mandalay Bay Convention Center, is eligible for the award.
See the current list of exhibitors HERE. The purpose of the competition is to promote and recognize products that contribute to providers' bottom lines though cash sales. Products will be reviewed by judges, and the top eight will advance to an onsite judging round.
The top eight products will be presented in a Medtrade Spring conference session:
The Innovative HME Retail Product Awards (sponsored by HomeCare Magazine)
Monday, Feb 29, 2016, from 4:30 p.m. to 5:30 p.m.
Speaker: Jim Greatorex (pictured), Business Development, VGM Retail Services
Voting will take place at the session to determine the top three winners.
• View the complete rules, entry form, and contract HERE.
• Entries are due by January 29, 2016. If you have any questions about these awards, contact Kevin Gaffney, group show director, at (770) 291-5446 or kevin.gaffney@emeraldexpo.com
The awards and the educational sessions at Medtrade devoted to retail are all part of what Medtrade Spring officials are calling "the rise of caretailing."
Caretailing is: the act of providing customer service and expertise to consumers willing to pay cash for health-related products that improve their lives and are beyond the usual scope of Medicare and other third party payers.