ATLANTA – Many manufacturers from the Oct 2015 Medtrade are looking to maintain their momentum by exhibiting at Medtrade Spring, scheduled for Feb 29-March 2, 2016, at the Mandalay Bay Convention Center in Las Vegas.
Golden Technologies took third place in the biannual Innovative HME Retail Product Awards (sponsored by HomeCare magazine) with its DayDreamer Lift Chair, and the Pennsylvania-based company will be back at Booth #523 at Medtrade Spring.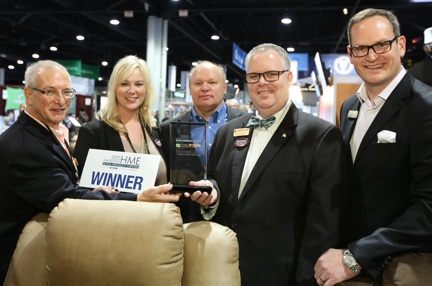 "We're impressed by our retailers every day," says C.J. Copley (pictured [far right] at Medtrade 2015), executive vice president, Marketing & Sales, Golden Technologies. "We see them growing, evolving, improving, and looking for change. While times have been difficult, so many great people are doing amazing things. We find that if we listen to the needs of our retailers, provide innovative concepts, and continue to deliver quality products, our retailers can build their business…We look forward to seeing them in Las Vegas."
Successful healthcare retailers such as Golden Technologies are combining care and retail into the increasingly familiar "caretailing" model—the new word for a new year. For those unfamiliar with the term, the definition is: The act of providing customer service and expertise to consumers willing to pay cash for health-related products that improve their lives and are beyond the usual scope of Medicare and other third party payers.
Caretailing emerged when Kevin Gaffney, group show director, asked his friends at VGM: What word best describes what retailers are doing, and should be doing? Paul DiMarco, vice president of Marketing, The VGM Group, and Maria Markusen, director of Operations & Development, came up with "caretailing."
According to DiMarco, Caretailing captures the essence of healthcare retailing because it is ultimately about the needs and wants of healthcare consumers—and the clinicians and providers who care for them while running a retail business.
"When you combine all of those elements, everyone wins," says DiMarco. "The consumer has a better wellness experience or recovers faster, and providers secure satisfied patients/customers for future business. It is not just about selling traditional HME products for cash. It combines current retail interaction practices with the total healthcare and wellness needs of the consumer…Caretailing creates a separate business model focused on healthcare commerce and customer service, and not solely on reimbursements and service for equipment."
The growing list of exhibitors (caretailing and more) can be found on the Medtrade Web site.