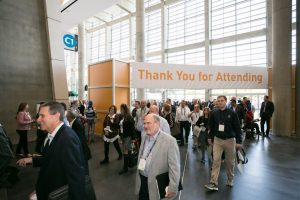 LAS VEGAS – SmartSaver registration rates (the most inexpensive you can get) for Medtrade Spring ended last week, but you are in luck. Medtrade Monday readers can use a special code to extend the rates* for a little while longer. The Medtrade Monday reader discount is just like SmartSaver rates, and is considerably lower than later and/or day-of-show rates.
The last day to take advantage of the special rate** for Medtrade Monday readers is Dec 15.
The Spring version of the nation's premiere HME trade show is scheduled for March 27-29, 2018, at the Mandalay Bay Convention Center in Las Vegas. To access the special rate, use the code:  SMARTER
"This special rate for Medtrade Monday readers is an amazing deal," says Sarah Varner, marketing director, Medtrade. "For that, you get access to top tier education from industry experts. Just one webinar from these speakers costs more than that. That amount includes full access to the show floor and hundreds of exhibitors. It's an awesome value."
Exhibitors are already buying up floor space at the Mandalay Bay Convention Center in anticipation of a chance to meet with providers looking to jumpstart their business in 2018.
For more information about the show, visit www.medtradespring.com.
* SmartSaver rates were $25 for expo and $99 for conference. Current rates are $50 for expo and $199 for conference. Registering with the Medtrade Monday exclusive code will result in a 50% savings off of current expo and conference rates, $25 for expo and $99.50 for conference. Must use code by December 15.
** Offer valid for qualified attendees only and does not apply to non-exhibiting manufacturers, suppliers, distributors, or consultants.
Medtrade Closing Reception and Cash Giveaway Winner is Glad She Stuck Around Until the End of the Show
ATLANTA – Medtrade 2017 featured an extra wrinkle designed to add a bit of excitement to the final day of the nation's premiere HME-focused trade show. The Closing Reception and Cash Giveaway eventually awarded $5,000 via random drawing on the show's final day, picked from among the HME providers who elected to stay until the end.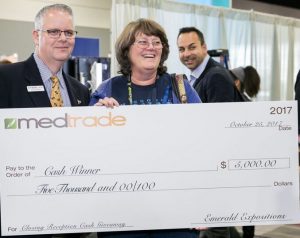 Group show director Kevin Gaffney churned a golden tumbler and eventually pulled out the name of Sandra Chisum, a certified pedorthist at Heritage HME, an HME provider with two locations in Texas (Wichita Falls and Graham). "The intention was to stay till the end to attend the drawing," said Chisum (pictured with Gaffney). "This was my first time to attend. There were a lot of vendors that had left before I was able to get through all of them."
Attendees had to be present to win, and Chisum revealed that, "I was having a hard time hearing what was being said. I was trying to process what he had just said when the lady in front of me said, 'She is not here.' I then raised my hand and said, 'I am here' and started walking through all the people. Needless to say, I was stunned."
While the end was particularly memorable for Chisum, she says she enjoyed the entire Medtrade experience. "There is a lot of information…and I liked being able to attend the panel discussions," she said. "It's great listening to others and hearing what they do to make their business a success."
"We do feel like the closing reception added some excitement and increased floor traffic during the last couple of hours of the show," added Gaffney. "Some exhibitors confirmed that, telling us that they had solid leads during the last half hour. Sandra Chisum was one of those on the show floor late into the show, and unfortunately there were a few exhibitors she wanted to see who were packing up. The vast majority did not, but exhibitors need to know that they could be losing out on business when they make that decision."