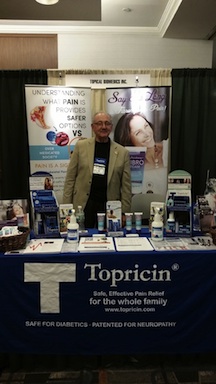 LAS VEGAS – Lou Paradise, president and product formulator for Topricin (from Topical Biomedics at Booth #1038, Medtrade Spring) routinely notches a 99% retention and reorder rate with HME providers who engage in retail/caretail sales.
"The products work quickly, and since they are odorless non-irritating, and moisturizing, people in pain are pleasantly surprised how well something natural works, even on the most severe nerve and joint pain," says Paradise. "Because the products are so popular, the retailer enjoys significant incremental sales and increased foot traffic."
According to Paradise, Topricin can be placed in different sections of the store. Topricin Foot, for example, is often placed near the compression socks or with the diabetic shoes—increasing customer awareness and more rings at the cash register.
All retailers are listed on the company website, a move that drives customers to the stores. "We are offering a 15% wholesale discount for new customers at Medtrade Spring," says Paradise. "And for VGM members, we have an ongoing 5% off wholesale discount.
"I invented our patented Topricin pain relief and healing cream topical formulas, initially to treat trauma injuries I sustained from the physical demands of duty as a crew chief in a US Marine Corps combat Medivac Rescue Squadron [two rotations] in Vietnam," continues Paradise. "We do a lot work with veteran's health care, as well as with Paralyzed Veterans of America. We are humbled that we get to treat pain, and more importantly, restore hope and quality of life."