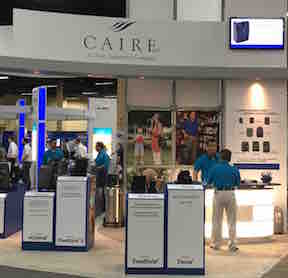 LAS VEGAS – CAIRE, a Chart Industries Company (Booth #400) joins multiple oxygen offerings on tap at Medtrade Spring, set to begin in just one week at the Mandalay Bay Convention Center in Las Vegas.
Chart Industries' CAIRE Inc is a global manufacturer of medical oxygen concentrators and other oxygen delivery equipment for individuals with respiratory conditions. The company's portfolio includes AirSep portable concentrators, SeQual transportable concentrators, AirSep and CAIRE stationary concentrators, CAIRE liquid oxygen systems, and military applications.
George Coppola, director of Marketing, points out that AirSep portable concentrators and SeQual transportable concentrators allow patients in any disease state continuum to stay active with continuous flow and pulse options. "CAIRE's UltraSense™ provides a sensitive pulse dose trigger in standard operating mode to detect your breath with less effort ensuring that a pulse of oxygen is delivered with each breath, guaranteeing that the oxygen is delivered when it's most critical, and allowing for a wider variety of patients to use the device," says Coppola. "CAIRE's autoSAT® Technology helps maintain a consistent FiO2 by adjusting to meet the patient's changing respiratory rate. Like cruise control adjusts a car's performance to maintain constant speed, autoSAT® adjusts oxygen concentrator performance to guarantee the prescribed amount of oxygen is delivered with each breath to the patient whether they are at rest or exercising."
Coppola says Medtrade Spring attendees should be sure to stop by the booth and ask about the CAIRE Cash Flow Management Program, which bundles a portable oxygen concentrator and a stationary oxygen concentrator—the perfect non-delivery O2 solution for a low monthly rate.
"With each new year there are new opportunities," muses Coppola. "At CAIRE, our primary focus in 2017 is going to be how we can better serve our provider and the oxygen therapy user. Providers are going to see and hear us ask more questions about their business as we strive to become a business partner with them first, and a supplier second. We believe this will strengthen our relationships and benefit everyone's bottom line—a win-win for everyone."
Blue Chip Medical Offers American Made Quality in Support Surface Category
LAS VEGAS – Ron Resnick, president of Blue Chip Medical (Booth #1130 at Medtrade Spring), Suffern, NY, is not one to mince words. He freely calls 2016 a "difficult and challenging" year from a business standpoint, thanks largely to a familiar conundrum. "Dealers bought on price, and not on quality," says Resnick, who prides himself on producing high quality products in America. "Our therapeutic support surfaces are made right here."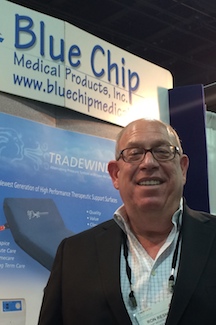 Resnick understands why dealers are choosing to buy cheaper products, but he contends that "all of these imported products fall apart and they have to keep replacing them because they don't hold up. DME stands for durable medical equipment, but we are now being forced by dealers to use disposable medical equipment."
A long term mindset among dealers would help, and Resnick also holds out hope that the new administration, along with new leadership at HHS, will create a more favorable climate. That, along with better marketing, can make a difference.
"Blue Chip has programs to help dealers look in other directions and areas of marketing that they may not have done in the past, because we have got to change our ways," says Resnick. "We bring a cost effective product. It is not the cheapest product, but it can be used for home health care and even long-term care facilities. We are showing some different marketing angles in the long-term care, acute care, and sub-acute settings. We promote our Measurex Pressure mapping system, which is one of the most cost effective full-featured units.
"I also think it's a big mistake for dealers not to attend trade shows like Medtrade Spring," he continues. "We have a whole marketing program. If Medtrade Spring attendees are interested, we will spend the time and work with them."
Bonafide Management Systems Offering Big Performance and Big Savings
LAS VEGAS – According to Matt Randall, regional sales manager at Bonafide Management Systems, Medtrade Spring attendees who visit Booth #957 will find favorable comparisons to some of the bigger software companies.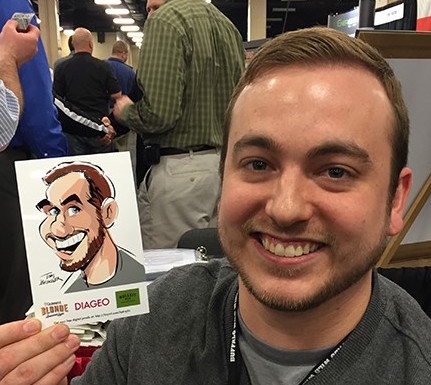 "When our new clients compare our software expenses to the 'big guys,' Bonafide typically costs 25% less," he says. "Sometimes even more. But cost savings isn't enough. We also have the best inventory control system in the business, and with margins shrinking everywhere in DME, more efficient inventory can make a huge impact on your bottom line. Drop by our booth #957 so we can show you how much better it is when you work with Bonafide."
"We have seen tremendously positive signals in the past two months," adds Randall. "Although the DME industry is changing, it is not going away. There is room for every DME business to improve margins and profitability, and our powerful software can drive success and growth. We're so excited to be a part of the technology improvements available to the DME market."