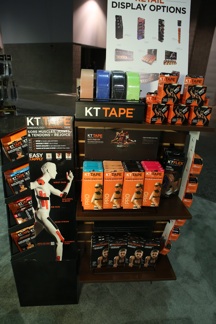 LINDON, UT – KT Tape® made headlines at Medtrade 2015 in Atlanta when it took second place in the biannual Innovative HME Retail Product Awards (sponsored by HomeCare magazine).
Last week, the Utah-based KT Tape got more good news when the United States Olympic Committee named KT Tape as the official kinesiology tape licensee of Team USA. KT Tape will help support the U.S. Olympic and Paralympic teams through the Rio 2016 and PyeongChang 2018 Games.
Designed for muscle, ligament and tendon pain relief, and support, KT Tape will be available to Team USA athletes at all U.S. Olympic Training Centers. "KT Tape is proud to support the Olympic and Paralympic movements by becoming a licensee of the United States Olympic Committee for the next several years," said Greg Venner, CEO of KT Health. "In order for Olympic and Paralympic athletes to perform at their best, they need to be supported by the best both on and off their field of play. As a licensee to Team USA, we will be providing them the support they need throughout training, Olympic Trials, competition and to the podium."
"Having been partners with KT Tape since 2008, I was so happy to see them become a part of the Team USA family," said three-time Olympian and brand ambassador Kerri Walsh Jennings. "I know how much the product has helped me with pain relief and support throughout training and competition, and I am glad that all members of Team USA will have access to the tape throughout their training process as well as at the Olympics."
"We're pleased to welcome KT Tape to the Team USA family, and know this product will be a great resource for the USOC sports medicine program and Team USA athletes," added Dr. Bill Moreau, USOC managing director of Sports Medicine. "America's elite athletes have dedicated themselves to compete at the highest level and this multipurpose tape allows us to provide pain relief solutions in a number of areas to help athletes achieve maximum performance."
Use #MedtradeSpring16 for social media connected to the show.