ATLANTA – Medtrade East in Atlanta wrapped up last month with exhibitors praising the show's attendees. Medtrade Monday ran a series of comments two weeks ago, all from manufacturers. This week we're recapping opinions from attendees.
"This is my first time at Medtrade East and I brought all my direct reports to the show. There is so much to see and we spoke with a lot of people. I will probably be going to Dallas in March of 2023." – Esther Tinklenverg, Thrive Skilled Pediatric Care, Georgia
"I've always attended Medtrade. I find we don't have a lot of attendees from the northeast, and I want to bring back the information from educational sessions, because it is so essential. We have to advocate for our industry. I usually go to Medtrade West and Medtrade East and I think Dallas is a good choice for the future of the show." – Catherine Hamilton, president and CEO of the Home Medical Equipment Services Association of New England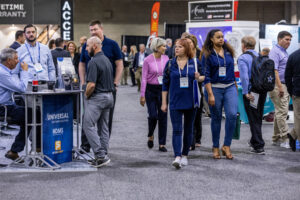 "I am looking for new and interesting things for our showroom and I'm succeeding here at Medtrade East. I'm seeing things I have never seen before. I'm speaking with manufacturer reps, and in doing that you learn the selling points. I've seen new equipment at the Solax booth, for example, and Pride Mobility has new products." – Ben Fretti, Mobility City, Boca Raton, Fla.
"We like meeting up with manufacturers and suppliers face to face here at Medtrade East." – Zac Bukeina, Neb Medical Supplies
"We are looking for any new DME items, from bathroom safety products to mobility equipment. We've been able to find new female urological products and colorfully patterned crutches that we like. We are looking for anything that is new and we are finding those items." – Noor Rashid, Starkman's Surgical Supply, Toronto, Canada
"I work for a pharmacy and I'm here at Medtrade East to see what I can find for the DME side. It could be anything—mobility, lift chairs, CPAPs. We've been seeing some good things here such as the Feather lightweight wheelchairs which are really impressive." – Ricardo Sanchez, Pill Box Pharmacy, Weston, Fla.
"I work for a rehab/e-commerce company and Medtrade East has been an excellent show. We are not a traditional distributor in that we are looking for new products, as well as meeting with existing vendors. We divided up all 200-or-so vendors and we are checking out all the physical products, basically everything except the software. We liked the ZPods and we have absolutely succeeded in finding new and innovative products that we can carry. It has been an invaluable experience to be here at Medtrade East." – Justin Nix, www.rehabmart.com, Watkinsville, Ga.
"I'm new to the DME business and I'm trying to learn as much as I can. We are looking to network with manufacturers and providers and I've gotten my badge scanned a lot so far. We sell a lot of Pride and Drive products, but we see that there are a lot of similar products and these companies also have a lot of great ideas. We're finding that you don't have to simply follow the big guys. This show is a great opportunity." – Tim Brown, Independent Again, Beaufort, S.C.
"We are looking for new equipment, retail in particular. There are quite a few good things to see here at Medtrade East. I really like Miracle Mobility with its four-in-one power rollator. Golden Technologies was also showing off some new lift chairs. Pride Mobility had some new power chairs that were interesting. I'm looking forward to Dallas next year, and I'll be there." – Roy Patel, Tri-State Medical Supplies, Spartanburg, S.C.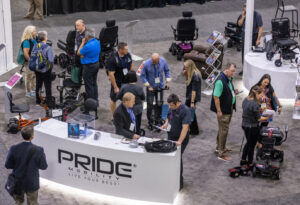 "I've been to many years of Medtrade and some years there's nothing more than a hand shake, but other years there are differentiators. This year is looking promising." – Robert Pittman, Ancillary Care Plus, Nashville, Tenn.
"We are new to the industry and we are here to get an understanding of what is new. Medtrade East is really a discovery for me. For example, there is an anti-snoring device called exciteOSA, and I did not even know that type of product existed." – Swann Morellet-Antoinat, Cleanis Inc., Dallas, Tex.
"We come to Medtrade for the in-person / booth discounts and to catch up with our reps. We want to see what's coming to the industry and compare products in-person. We found some new products such as the IMAK Active Gloves – vibrating hand gloves – from Brownmed." – Janet Butler, Access DME, Chattanooga, Tenn.
"We are at Medtrade to see the new DME offerings, and it's really cool how products are evolving and changing. We are rebuilding the relationships that we used to have before COVID. We really liked the exciteOSA product, as well as the ZPods, which are sleep pods for children." – Melissa Seitz, Medical Service Co., Cleveland
"We are looking for new partnerships with manufacturers. We want to discover new products and what we're missing. We consider Medtrade East to be one of the key outlets for our business development." – Catrina King, Rehabmart, Watkinsville, Ga.
"I come to every Medtrade because I don't want to miss anything new. We are looking for CPAP products, mobility equipment, and really anything new to open product lines. At this point, about 50% of the mission is accomplished. We have found CPAP equipment and a fulfillment center that I had not even considered, but it will save us some money. I have meetings set up and calls based on the contacts I've made here at Medtrade East." – Wade Williams, MDS, Alpine, Utah
"We came specifically for pulse oximetry and different types of ventilation. We spoke with three promising vendors, and we've seen all our old vendors. Astham Go is a product that I had not seen before and it is promising." – Jimmy Boyd, Pulmonary Care Services, Anniston, Ala.
"This year's Medtrade is even more exciting than last year. I like to see what's coming next and the show is very educational. I have a new store and I've been communicating with vendors and seeing what works. I want to see the latest and greatest and I'm seeing that here at Medtrade East. Miracle Mobility and Solax were amazing. For the existing vendors, I like putting a name with a face. It's valuable." – Michael Beckman, Mobility Plus, Elkridge, Md.
"The show has been good. We're looking for oxygen, vent solutions, and enteral. I was on the exhibitor side for a long time and I don't think I fully appreciated what the show had to offer. I've seen a lot of good products and had a lot of good conversations. I saw a portable oxygen concentrator with tracking and stats for compliances, and that was new to me." – Renae Storie, Barnes, Valdosta, Ga.