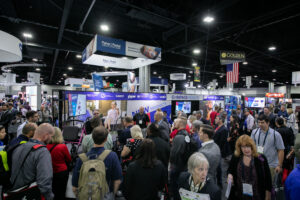 ATLANTA – New attendees and familiar faces alike will have the chance to visit almost 40 new exhibitors at Medtrade East.
"These new exhibitors see the demographic data and they are eager to meet with HME providers," says York Schwab, show director, Medtrade. "Many of these companies have no preconceived notions about the good old days. They see opportunity and they want to partner with Medtrade attendees who are looking for new products and new ideas."
Medtrade East is scheduled for Oct. 24-26, 2022 at the Georgia World Congress Center in Atlanta. See below for a partial list of first-time attendees. Advance Rates are now in effect for the nation's largest HME-focused trade show. Click Here for more information.
SCS Direct Inc.
US Medical Glove
Blanor Products
WINIX America Inc.
zPods
The Pro Healthcare
Resvent USA
CorVent Medical
ISTA Personnel Solutions
Spirit Medical
Tomorrow Health
ModoHealth
Careismatic Brands
Feather
Nobol, Inc.
MedGuard Protection Plans LLC
ExtriCARE USA
Zelickson Goods & Imports LLC (Dr. Fuji)
SleepRes LLC
FALI Rehab Equipment
HME360
United Credit
Stamina Fibre
CUBII
Merge Electric Fleet Solutions
Baisheng Medical Co. (Fulwell LLC)
Strategic Office Support
Unite Data Solutions (MaskFit AR)
HGS Healthcare
Signifier Medical Technologies
Battery Outfitters