Illinois Bill to Repeal Breast Pump Sales Tax Introduced
SPRINGFIELD, IL – According to AAHomecare, a subgroup of the Breast Pump Policy Coalition has engaged lobbyists in Illinois to assist with repealing the sales tax for breast pumps. Efforts are already underway. Senator Barbara Hernandez introduced H.B. 4234 which would allow breast pumps, breast pump collection and storage supplies, and breast pump kits to be exempt from the taxes imposed beginning on July 1, 2022. The bill now has 14 cosponsors and was referred to the Rules Committee on the opening day of the legislative session, January 5.
Currently, only eight states in the US exempt sales tax for breastfeeding equipment, while  infant formula is generally tax-free. A handful of states have limited exemptions, where pumps are exempt subject to certain stipulations. This isn't a true solution and doesn't ease the tax burden on most moms. Full sales and use tax exemption for breast pumps and supplies is the key to reducing this tax burden.
The campaign will include reaching out to breastfeeding coalitions and other organizations who would be willing to support the legislation through social media and calls to legislators. A companion bill is expected in the Senate shortly.
For more information about this initiative, visit parityforpumps.com/illinois. Those who are interested in supporting these efforts may reach out to Tilly Gambill, director of Marketing Communications for the American Association for Homecare. tillyg@aahomecare.org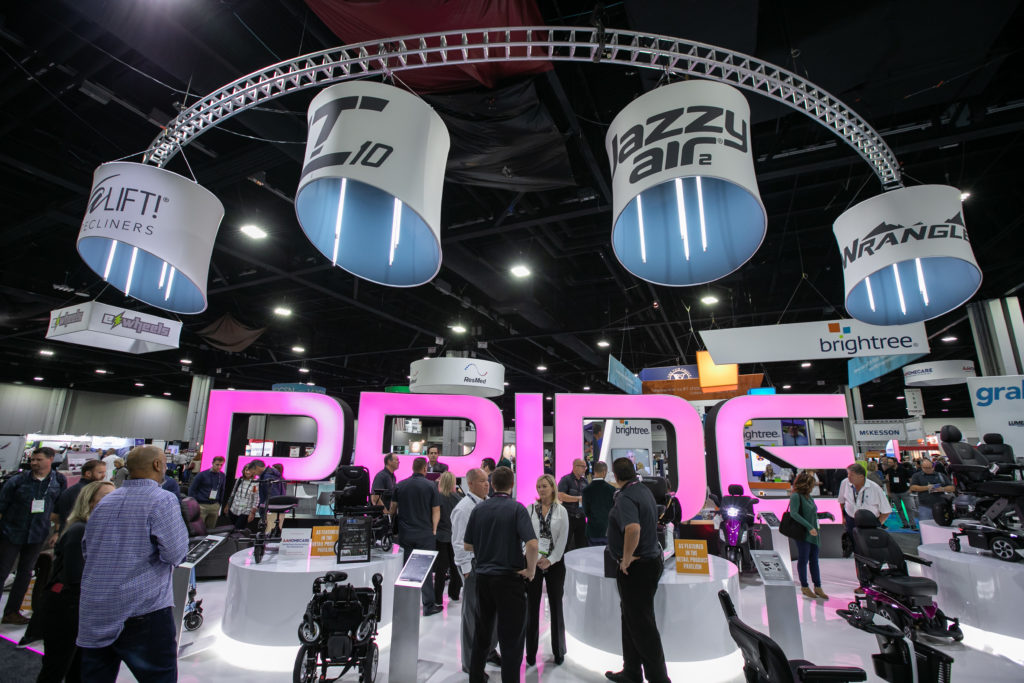 Pride Mobility Signs On For Medtrade West In Phoenix
EXETER, PA – Pride Mobility Products, Exeter, Pa., recently signed up to exhibit at Medtrade West, scheduled for April 4-6, 2022 at the Phoenix Convention Center.
"Pride is a familiar presence at Medtrade West and Medtrade East, and we are thrilled to welcome them back to Phoenix this April," says York Schwab, show director. "Pride brings stellar products, expertise, and an eye-catching booth that attendees are always please to see."
"We are proud to continuously support the industry and we are looking forward to meeting providers face-to-face in Phoenix," adds Renae Storie, vice president, Pride Mobility Products. "We have a host of exciting, new, and innovative products in each category that we will introduce at Medtrade West, and as always, we are eager to hear everyone's feedback."
ACMESA Winter Meeting Registration Begins
DURHAM, N.C. – Registration is open for the Atlantic Coast Medical Equipment Services Association (ACMESA) Winter Meeting, scheduled for Feb 2-3, 2022 at the Durham Convention Center in Durham, North Carolina. Click Here for more information about the meeting.
New Dates for Focus Conference 2022
WATERLOO, IA – Focus Conference 2022 is moving from Feb. 5-7 to May 1-3, 2022. According to VGM officials, this change is to ensure the safety of all those involved and is expected to only occur this year. "The safety and health of our attendees, exhibitors, speakers, and staff is our key priority," said Nikki Jensen, vice president of Essentially Women. "We have a responsibility to keep everyone safe as they learn and network with their peers. By shifting later to Spring 2022, we hope that the current surge in COVID cases will have decreased. We are looking forward to seeing each other in person in May."