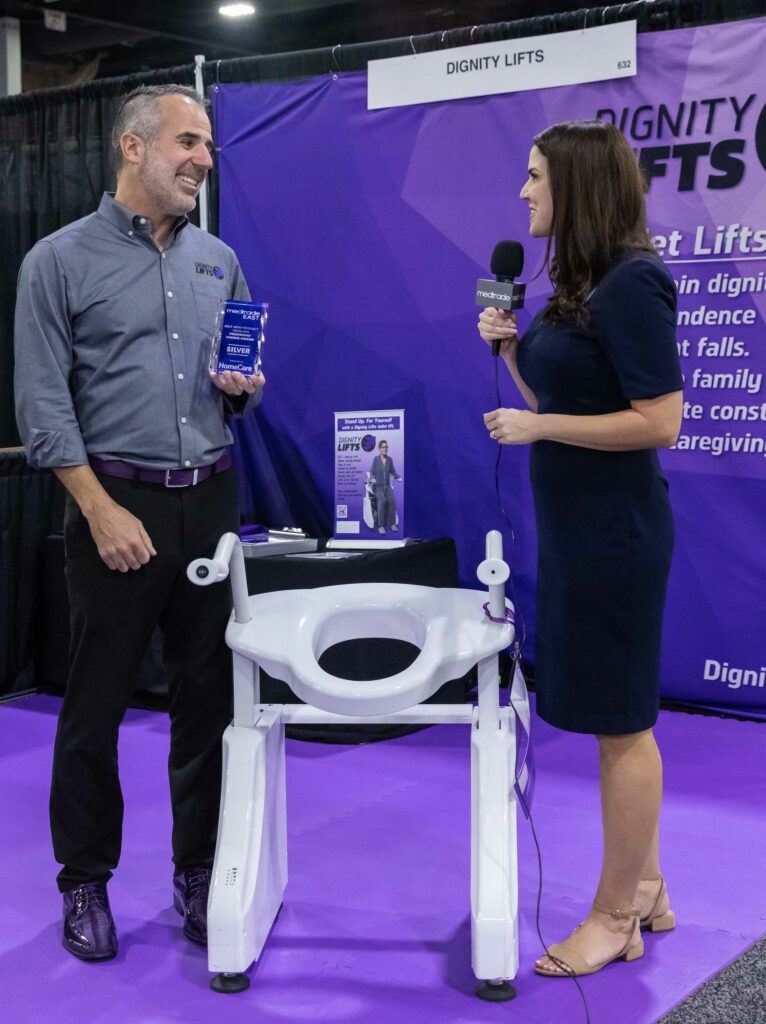 ATLANTA – Show organizers capped off day three of last month's Medtrade East with the New Product Pavilion Providers' Choice Awards, sponsored by HomeCare Magazine. The Providers' Choice Silver went to the The Dignity Lifts Deluxe Toilet Lift – DL1. The Deluxe Toilet Lift – DL1 helps users get up from and down to the toilet.
According to Tom Nardone, president, Dignity Lifts – Toilet Lifts, Troy, Mich., many people at Medtrade East had never seen a toilet lift before. "It was fun to see them figure out what it is and what it does," he says. "Most people understood it right away."
Medtrade Monday sat down with Nardone to learn more about the company, the product, and the conversations at last month's Medtrade East in Atlanta.
Medtrade Monday: How did you help attendees to understand the product?
Tom Nardone: Many of the dealers at Medtrade already sell lift chairs and raised toilet seats. I often say that Dignity Lifts are what you'd get if a lift chair and a toilet seat had a baby—so we seemed to be right on target. Before the show, I had used Medtrade Meet to introduce myself and arrange a number of meetings, so some people had been primed about the product. We had a quite a few people who knew all about it but saw it in person for the first time at the show. I asked questions too. I am very interested in creating the right display in each dealership, so I was asking dealers what they wanted for in-store marketing.
Medtrade Monday: What kind of conversations were you having at Medtrade East?
Nardone: Many conversations were about availability and logistics. Fortunately, the team at Dignity Lifts has taken care of that and we are well stocked for now and through the holiday season. Mostly though we spent a lot of time showing off the features of our Deluxe Toilet Lift – DL1.
Medtrade Monday: How surprised were you by the product's reception?
Nardone: Our research into toilet lifts showed us what was important to lift users, and our product delivers these things, such as: the rechargeable battery that lasts for a month of lifts; the feet that adjust to fit any toilet; and the easy-to-clean design are all great features. We had a Dealer Special to encourage people to become a Dignity Lifts dealer and that worked well. It requires a $999 investment in your first lift, but if you are selling lift chairs and toilet seats, it makes sense.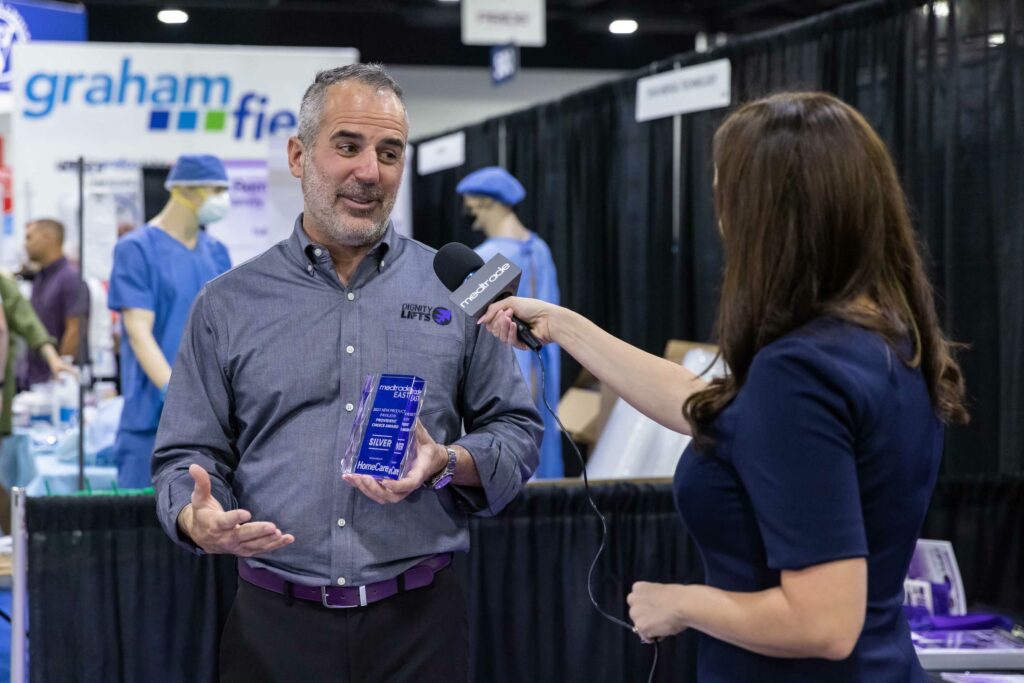 Medtrade Monday: What are your marketing challenges?
Nardone: People don't know our company exists and they don't know that toilet lifts exist. We are addressing this by showing the lifts to as many people as possible both online and offline. We have been braving the pandemic to attend as many national conventions (AACA/NCAL, NADONA, Leading Age, Medtrade, etc.) as possible.
Another area of resistance is that people haven't quite got the value proposition figured out for themselves. Home users understand it best. They know that moving to a care facility will cost them $4,000 a month or so, and this lift is $1,499 and they get to stay at home. Other groups, like managed care facilities, are still trying to figure out whether $1,499 is a great value or not. They don't tend to put a financial value on their residents' independence, so we have to save them $1,499 in labor costs. Lately though, labor is tight, so toilet lifts make more sense.
The final area of resistance is dealers who have to decide if they want to invest $999 to get their first lift. I can't speak for each dealer, but I certainly believe in the product. I've invested $500,000 in it and I'm hopeful that more and more dealers will spend a little to sell a lot.
Medtrade Monday: What are the origins of the company?
Nardone: Our company has been in business since 1998, but in 2020 we sold our largest brand, BulletSafe Bulletproof Vests. Financially it was great, but it left our team looking for what comes next. We had a great group of people who I knew would be successful, and we just needed a new product. We did a lot of research and looked at 36 different new product ideas.
Our favorite idea was toilet lifts. I had seen them on an international trip. I found they were popular in Japan, India, and Scandinavia. I had also been reading about the demographics of the United States and that there just aren't enough care workers to go around. Finally, I read an AARP study that said that 89% of Americans want to "age in place" meaning they don't want to leave their home or apartment. It seemed like toilet lifts could meet the needs of these people. That's where Dignity Lifts came from.
Medtrade Monday: How long was the product in development?
Nardone: It took us about 18 months to create a stylish, durable lift that we could be proud of. We launched it at Medtrade West in Phoenix, but I didn't understand how the new product pavilion worked, so entered that when we launched again at Medtrade East. We won the Silver award and toilet-related products typically don't win awards, so I'm especially proud of ours.
Medtrade Monday: What if anything surprised you about Medtrade East?
Nardone: Mobility City and their franchisees surprised me the most. Typically we talk to one or two people at a time. During Medtrade East, what seemed like an army of red shirts appeared. They were all franchisees of Mobility City. I had contacted Charles Lewis through Medtrade Meet and instead of showing up for our meeting alone, he brought 30 people. It was great to address them all at once. You'll be seeing Dignity Lifts in a lot of Mobility City locations.
The Dignity Lifts Deluxe Toilet Lift – DL1
Works with all toilets
Fits into almost all bathrooms
Has four wide feet for complete stability
Works with or without a nearby power outlet
Provides 14" of lift
Has a weight capacity of 300 lbs.
Rechargeable battery provides 1 months worth of lifts between charges
Is easy to install and use
Helps people stand up, for themselves
Sleek, attractive, and easy to sanitize
MAP Pricing: $1499