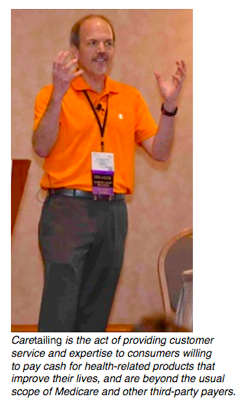 ATLANTA – The 2016 VGM Retail Science Roadshow rolls on with a stop in Dallas, Texas (Sept 13), and a final eight-hour show set for Medtrade in Atlanta. The roadshow is a one-day, hands-on, interactive educational event sponsored by VGM Retail.
Led by Jim Greatorex (pictured) and Maria Markusen, two seasoned experts in health care retail/caretail, Roadshow sessions provide practical tips, techniques, and strategies for the retail business. Attendees will also learn directly from vendors about the latest and greatest retail products that can significantly boost the caretail business.
"The industry has changed so much over the past 5 years, almost a complete 360° of sorts, so in order to run a successful medical supply company, you're required to stay at the forefront of these changes," said one VGM member/road show participant. "I believe that having a retail presence is one of the most important evolutions of the medical supply industry; with lowering reimbursements and more detailed coverage criteria, having cash only retail items makes it fun again. Let's face it, at the end of the day, retail is just more fun."
There's two opportunities left in 2016 to join a Retail Science Roadshow:
• Dallas, TX – Sept. 13th
• Atlanta, GA – Oct. 31st (Medtrade)
Click Here to register today!
"The great thing about this road show is that we are doing this with our vendors," says Markusen. "We get in-depth. We don't just talk about the high-level surface stuff. We talk about the numbers, so when people go home they can use the information to improve their business and make changes."
"Education and what we call 'core competencies' of running a retail store will be mixed in with manufacturer education about how to measure metrics and do sales training," says Greatorex. "We will show attendees product opportunities that we believe are great cash opportunities—with new and exciting vendors. We provide education about how to merchandise and market new products, all of which are designed to help providers grow and bring in new customers."
Dallas, TX – Sept 13, 2016
8:30 a.m. – 4:30 p.m.
Embassy Suites by
Hilton Dallas Park Central
13131 North Central Expressway, Dallas, TX 75243
Medtrade – Atlanta, GA – Oct 31, 2016
8:30 a.m. – 4:30 p.m.
Georgia World Congress Center
285 Andrew Young International Blvd NW, Atlanta, GA 30313
Session Pricing for VGM Members
• $79.99 for first attendee
• $49.99 for all additional attendees
Those who wish to attend the Dallas session (and the session at Medtrade), should click the link below.
http://marketing.vgm.com/acton/fs/blocks/showLandingPage/a/10445/p/p-0039/t/page/fm/0
For any questions about the Retail Science Roadshow event, email the VGM Retail team at retailservices@vgm.com or call 855-285-3300.