DALLAS – Attendees at Medtrade 2023 in Dallas ultimately tapped the Miracle Mobility 4N1 Electric Walker Wheelchair from Miracle Mobility as the New Product Pavilion (sponsored by HomeCare Magazine) Gold Award Winner. Since then, the company has kept up the momentum, recently partnering with the Home Shopping Network (HSN) and QVC.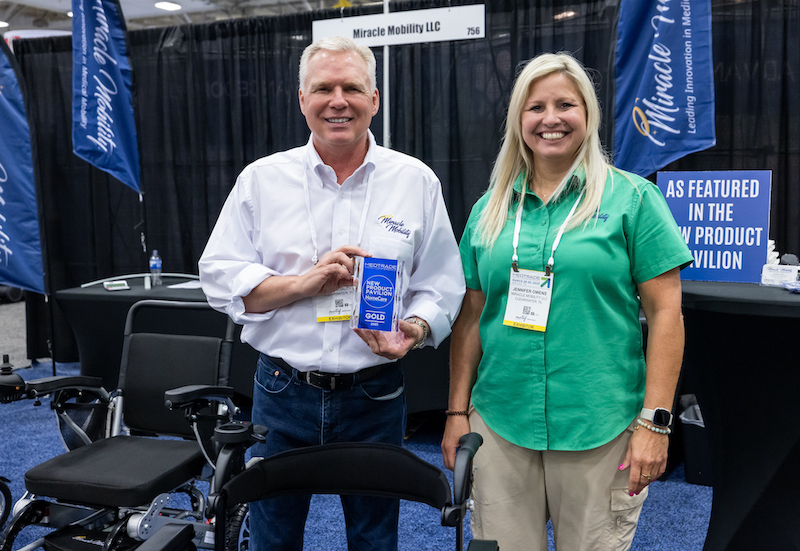 "Miracle Mobility is now a vendor of record for HSN and QVC," explains Dan Guthrie, CEO of Miracle Mobility, Clearwater, Fla. "The Home shopping channel is a unique sales channel in that it allows the product to be seen as a demo before the consumer purchases.
"We have the opportunity to explain the chair on live TV and share how it works and operates…" Guthrie continues. "It was also nice to be able to tell HSN that Miracle Mobility was recognized by our industry peers at Medtrade."
Medtrade attendees responded in particular to the light weight of the chair. "The biggest hot button for us was also the four-in-one aspect of the Miracle Mobility 4N1 Electric Walker Wheelchair," Guthrie says. "It's kind of like a swiss army knife for mobility aids. It can be used as a traditional standard rollator, but because of the legs that swing out, it can also be used as a lightweight transport chair—so that's the second function."
Click Here to learn more about the Miracle Mobility and the 4N1 Electric Walker Wheelchair.