ATLANTA – The New Product Pavilion Providers' Choice Silver Award (sponsored by HomeCare Magazine) went to Handy Cane from the MOST Corporation. The Providers' Choice Award is voted on by Medtrade attendees. Why did The Handy Cane capture the attention of providers? We asked Alec Stern, co-founder of The Handy Cane to help explain the phenomenon.
Greg Thompson, editor of Medtrade Monday: Why do you think you received the second place award in the Providers' Choice awards?
Alec Stern, co-founder, Handy Cane from the Most Corp: We were honored and excited to receive second place in the Medtrade Providers' Choice awards for the Handy Cane. I believe we received this award because, as a hybrid walking aid and grasper, the Handy Cane is an elegant solution to the most difficult challenges faced by people with limited mobility—including the ability to move freely and independently and accomplish every day tasks with ease. Visitors to our booth throughout the show reacted to the Handy Cane's sleek design, functionality, ease of use, and quality materials. Many remarked, "what a great idea, why didn't anyone think of this before."
Thompson: What was the inspiration behind this product?
Stern: Our co-founder, Pavel Menn, was visiting a friend in the Hospital who was recovering from a recent knee surgery. To aid in rehab after the surgery and to prevent strain on his knee as he recovered, his physical therapist suggested a "knee and hip surgery survival kit." The kit consisted of a cane to help reduce load on his joints, a grasper on a stick to help him reach, grab, and pick up objects, and a piece of bent plastic with a rope designed to help him put on socks without bending and stressing the knee. The cost of the survival kit was $150.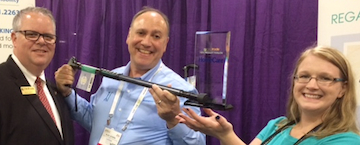 As a friend, Pavel watched him make several unsuccessful attempts to use that "survival kit" and noted his growing frustration. As an engineer, he couldn't help but think about how this "survival kit" could be made much better, easier to use, much less expensive, and with all the functions combined into one device that he could take with him anywhere. As Pavel developed his ideas, he also considered the plight of others who, for whatever reason including age, lack of flexibility, strength or height, are unable to move freely and easily accomplish everyday tasks. He set out to design an all-in-one Handy Cane™ that would be light, strong, and easy to use—and one that would return independence and convenience to these people's lives.
Thompson: Why is retail/caretail so important in today's HME world?
Stern: Our buyer is the consumer, relative, or caregiver looking for a reliable, stylish cane and/or a strong and versatile reaching grasper delighted to find both in one device. Today, these consumers do research online and shop both brick and mortar stores and online for walking aids and other home medical products that facilitate independence and recovery at home. To make these products available via retail increases their accessibility and, in the case of brick and mortar stores, the ability to touch, feel, and trial the product before purchase. The Handy Cane is great for HME retail and/or caretail, given that it applies to such a broad consumer market, addresses multiple needs and benefits patients, caregivers, and family members.
Thompson: What type of customers (end users) will be using your products?
Stern: Customers for the Handy Cane include the aged, those recuperating from a recent injury or surgery or those with limited abilities for other reasons. In all cases, these customers face potential difficulties with mobility and independence that require a walking aid for stability and support. At the same time, in everyday life, situations arise where an important item may be out of their reach or difficult to grab. This is where the Handy Cane's versatile cane and reaching grasper help the customers avoid situations that could potentially result in a fall or injury and function more independently with less assistance.
Thompson: What are your plans for Medtrade Spring?
Stern: Given the Handy Cane's success in being a Medtrade 2016 Innovative Retail Product Award top 8 finalist, and a Silver 2nd place finisher in the Providers' Choice Awards at the recent Medtrade 2016 conference in Atlanta, we are excited to carry this momentum to the Medtrade Spring 2017 conference. Providers visiting our booth can trial the Handy Cane and see its superior quality and unique functionality for themselves. And as we showcase the Handy Cane to the targeted Medtrade 2017 attendee audience, we'll be able to make important connections and gain invaluable feedback.
Medtrade Monday will continue to take a closer look at additional award winners in the coming weeks.