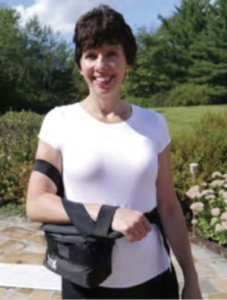 LAS VEGAS – Scott Fried, DO, has developed what he calls a "neck-free shoulder device," and Medtrade Spring attendees will get a chance to see, feel, touch, and try on the product when the show convenes March 27-29, 2018, at the Mandalay Bay Convention Center in Las Vegas.
The EZ Sling from Doctor in the House is a patented orthotic designed to support the arm from the waist, as opposed to the traditional sling that hangs around the neck. Based in Blue Bell, Pa, Fried is again making the trek to Las Vegas to show off the product which has gained considerable traction, particularly in recent years.
"It has a high reimbursement from the insurance companies," says Fried, an orthopedic surgeon by trade and founder of Doctor in the House. "What we're seeing in the last couple of years is this push for cash items for the smaller home town HME companies. With that in mind, we're going to put out a different version that is a cash item, and we think it's going to take off."
The difference between the EZ Sling and other products is that other orthotics hang around the neck. "With these other products, you immobilize the arm, but you've got the arm up against the chest with no use of your hand," explains Fried. "If you're in that too long, you end up with frozen shoulder. This cash version will come out at a lower price so small HMEs can sell these for cash."
The EZ Sling will also appear in the Medtrade Spring New Product Pavilion. Medtrade Spring is a destination that is normally not on the Doctor in the House trade show circuit, with Medtrade in Atlanta being the favored spot. The 2018 trip to Medtrade Spring will mark the company's second trip to Las Vegas after an absence of a few years.

Thanks to a joint venture made shortly after last year's Medtrade, Doctor in the House can now offer a full line of products for backs, ankles, and knees. Medtrade Spring is the follow-up to that venture, and offers "a chance to meet face to face with folks and show them that we have a full line for the first time in 2018."
Fried expects attendees will see how the products are comfortable and easy to use, with the added benefit of virtually no returns. "We see what products work and what does not," says Fried. "We also provide the best customer service of anyone in the industry. Patients can call us directly, and they will have a PT on the phone. The DME does not have to take that call. We will take it. It's that customer service that puts us over the top."