OLD FORGE, PA – Golden Technologies launched a new product in their power lift recliner division. MaxiComfort with Twilight cradle technology is a luxury power recliner with a patent-pending, three-motor mechanism.
"We care about our customers' comfort," said Rich Golden, CEO of Golden Technologies, "so after years of development, we are thrilled to introduce this incredible chair. There is truly nothing else like our three-motor seating technology on the market. It didn't exist – until now. Twilight cradle technology offers our customers a new range of rejuvenating positions to comfort the body and ease the spirit."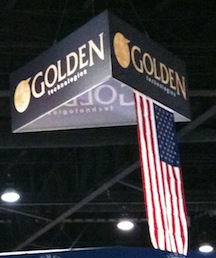 The PR514 MaxiComfort with Twilight Positioning represents the next generation in Golden's line of quality power lift and recline chair products. Consumers are able to achieve extreme Zero Gravity and discover new angles for TV watching and lounge positions.
The product was unveiled at Medtrade Spring, one of the HME industry's largest trade shows, this past March in Las Vegas, and was received by retailers with overwhelming enthusiasm.  "Truly the most significant enhancement to lift chairs since we started Mobül. The Twilight technology will further solidify Golden Technologies' position as the world leader for years to come," said  Wayne Slavitt, founder & CEO at Mobül: the mobility store in Long Beach, California.
Retailers are already experiencing extremely positive results by carrying the product. "The PR514 is the best chair we have by far and anyone who has seen it is has been highly impressed. Thank you for the efforts by Golden to develop products that make great margins and blow the competition away in comfort and innovation," said Jake Theule, retail sales manager at CareLinc Medical in Grand Rapids, MI. "The Twilight chair is a fantastic chair. It is now my favorite. I suspect that it will perform exceedingly high for all of us," added Debbie Mendelsohn, president at Professional Medical Supply in El Cajon, CA.
The chairs are stylish and are hand-crafted in Old Forge, Pennsylvania, by a team of skilled craftsmen. "Golden chairs are made by Americans and we are very proud of our history and ability to provide customers with advanced seating options unlike any other manufacturer," said Golden.
The product was released exclusively to Golden's elite Flagship retailers this spring and will be available to all dealers in May. Golden Technologies will be exhibiting at Medtrade, scheduled for Oct 15-17, 2018, at the Georgia World Congress Center in Atlanta.