OLD FORGE, PA – Golden Technologies has launched a new product in the mobility division. The new design and comfort features are intended to help retailers drive cash sales with profit producing products.
The GP208 Alanté Sport is the next generation of Golden's line of power wheelchairs. The Alanté Sport brand has been around for 20 years. This new design pays homage to its predecessors and represents the future of comfort and style. A new retail-friendly logo adds the finishing touch.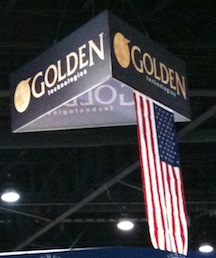 "The all-new Alanté Sport continues to mean quality and value," said Jason Davis, vice president of Sales. "The first thing that will catch your eye is the stylish redesign with a unique and vibrant red, scratch-resistant, color through shroud that is sporty and functional. It features a generous high back captain's seat in black; a larger, lightweight composite footplate; and padded, adjustable arm rests."
The Alanté Sport has a front-wheel drive power base with black, non-marking, flat free tires on painted plastic rims. "The GP208 Alanté Sport is the most stable unit in its class and offers excellent performance and maneuverability indoors and out for an active lifestyle," he added.
The GP208 also features a low center of gravity, an impressive turning radius of 28", a weight capacity of 300 lbs., upgraded user-friendly motor connections, and an automatic shut-off charger system. The heaviest piece is 66 lbs. It features 2-U1 batteries for an operating range of up to 15 miles.