DURYEA, PA – Medtrade 2018 exhibitor Quantum Rehab® has launched the Edge 3 power chair. The Edge 3 is the culmination of eight years of product improvement based on consumer, clinician, and provider input toward the award-winning Q6 Edge® series. It's not a new power chair, but a better power chair, all based on market feedback.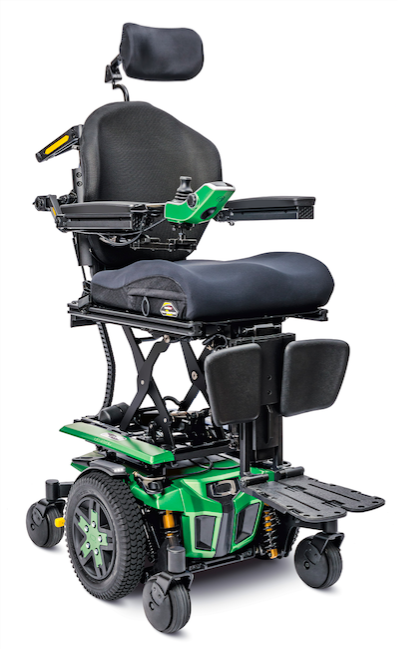 Building upon the Edge 2, the Edge 3 features the added benefits of SRS technology (Smooth Ride Suspension), 4.5 MPH iLevel option, standard fender lights, standard USB device charger, and standard drive-wheel accents corresponding with new shroud color choices. All enhancements were specifically market-driven.
"Innovation always begins with listening," said Jay Brislin, vice president of Quantum Rehab. "The latest advancements on the Edge 3 each come from what users, clinicians, and providers have wanted more of in this leading complex rehab power chair."
Specifically, SRS technology evolved from consumers wishing a softer ride – from reducing spasticity triggers to easing use with specialty controls to an overall smoother ride. The industry-first 4.5 MPH driving speed while elevated with optional iLevel meets the need for greater speed while elevated, such as when crossing busy streets. And, the standard fender lights, USB port, and new colors are lifestyle features that increase the overall user experience. In all, the Edge 3 offers a true user-sought power chair experience.
"We're proud that the Edge 3 is made here in America by our team," adds Brislin. "This allows us the highest quality and shortest lead times in the industry on this totally custom-built unit."
click here for a video overview and visit Http://QuantumRehab.com