EXETER, PA – The Facebook page for Pride Mobility Products® reached a retail-mobility industry first, achieving 10,000 followers. With about 80% of seniors and Baby Boomers now using the Internet, Pride's Facebook page has seen unprecedented use and growth by consumers in the retail mobility segment.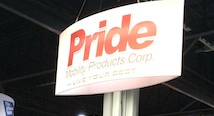 "We believe strongly in harnessing the power of social media to reach retail mobility consumers, including the aging population," said Rhonda Perko, senior director of Marketing. "We see social media outlets like Facebook as a way to connect with consumers and help educate them on our products, but work very hard to also convert that online traffic into actual showroom traffic. In this way, our remarkable Facebook presence serves as a great sales generator for our providers."
The Pride Mobility Facebook page focuses on both products and lifestyles. New product launches, product overviews, and product news are all an integral part of daily posts. Likewise, posts featuring users living active lives in Pride products are featured. Pride Mobility is scheduled to exhibit at Medtrade, scheduled for Oct 15-17, 2018, at the Georgia World Congress Center in Atlanta.
"Delivering a complete product experience online is important," added Perko. "We want consumers to know about the products, but we also want them inspired by stories of how actual consumers are living active lives with the products. When consumers can sit in the comfort of their homes and learn through Facebook how a Pride product can improve their life, that's a great catalyst for them to then work with a local provider."