WASHINGTON, DC – Last week AAHomecare and several regulatory council members met with CMS' Comprehensive Error Rate Testing (CERT) team in Baltimore. The goal of the meeting was to get further clarification on the 2017 CERT Supplemental Improper Payment Data.
AAHomecare learned that the CERT contractor, AdvanceMed, conducts 50,000 audits per year and of that 11,000 are on DMEPOS. In this year's report the DMEPOS industry had no audits that had no response. Previously, AAHomecare requested the CERT team include more granular data regarding improper documentation.
The CERT team agreed with the request and has since added further explanation of the types of improper documentation. During the meeting, AAHomecare requested additional detail on the audit failures and CMS agreed to see if this is possible for next year's reporting. The DMEPOS industry is committed to working with CMS to improve the improper payment rate.
In addition to meeting with the CERT team, AAHomecare also met with the Pricing, Data Analysis, and Coding (PDAC) Contractor on coding issues. The meeting was an opportunity for AAHomecare to learn more about how the PDAC determines what codes apply to applications for coding verifications received from manufacturers and to share industry issues with the coding process. We hope to host an educational session on respiratory equipment at PDAC's headquarters in North Dakota in the fall.
AAHomecare Convinces CMS to Allow Use of IFR Rates in Medicaid Calculations
WASHINGTON, DC – As AAHomecare has previously reported, provisions in the 21st Century Cures Act moved forward the deadline that the Federal Financial Portion for Medicaid could not exceed Medicare allowables for specific items of DME to Jan. 1, 2018.  Following the limited-term rate increases provided in last month's HME-related Interim Final Rule, AAHomecare met with CMS to discuss how these rates would be utilized in the Medicaid Cures mandate.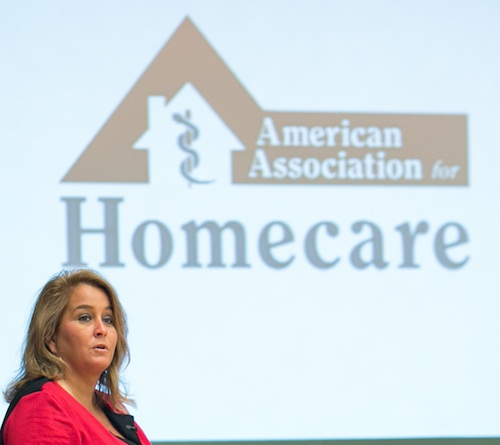 CMS had earlier indicated that any fee schedule adjustments would not impact CURES reconciliation as they would be utilizing the Jan. 1, 2018 fee schedule. AAHomecare subsequently met with CMS and provided information on the new fee schedules for rural areas. Upon review of this information, CMS agreed that states that process claims based on competitive bid area, non-rural, and rural areas could use the higher rates for June 1-Dec. 31, 2018 for claims in rural areas.
They also agreed that states that are not simply basing their rates on Medicare rates can present their utilization for reconciliation based on area- of-service and for dates from Jan. 1 through May 31, 2018, and for June 1 through Dec. 31, 2018. CMS will then utilize the higher rates for the rural areas in the reconciliation process.
Laura Williard, vice president of payer relations for AAHomecare said, "I am happy we were able to influence CMS to utilize the rates that offered relief to many rural areas."
HR 4229 Now Over 150 Co-Sponsors; Additional Support Sought
WASHINGTON, DC – With the addition of seven new legislators since the Washington Legislative Conference, H.R. 4229 is now at 152 co-sponsors [119 Republicans, 33 Democrats].
If any House members/staff you met with at the legislative conference (or that you engaged in another setting) that expressed support or interest in H.R. 4229 is not yet listed as a co-sponsor, please take this opportunity to follow up again.
While the recent HME-related Interim Final Rule partially addresses this issue, we need to continue to maintain and further build Congressional support for more substantial and long-lasting relief for rural and other non-bid area suppliers. You can find additional perspective in our one-pager comparing HR 4229 and the IFR.
Email Gordon Barnes at gordonb@aahomecare.org if you need contact information for the healthcare legislative assistant for your Representative.