DURYEA, PA – Quantum Rehab® has launched a new app called Quantum® Clinician. The new app contains plenty of features, including serial number and order number lookup, a quick-search option, 360-degree product views, fillable order forms, push notifications, consumer testimonials, news, events, specifications sheets, brochures, owner's manuals, installation instructions, basic operating instructions, and more.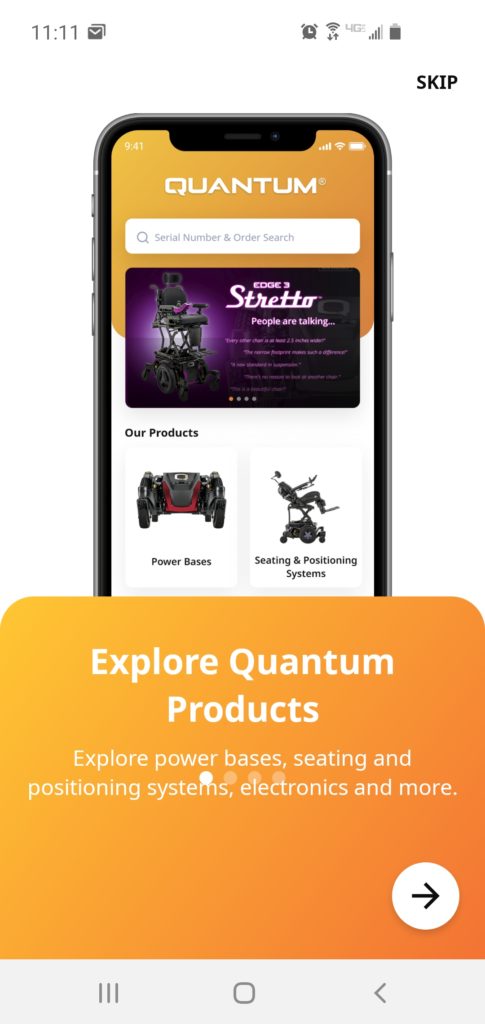 After an initial tutorial option upon opening the app for the first time, the user is required to select either the U.S. or Canada to view country-specific content. Additionally, password-protected technical videos are available (passwords can be obtained by emailing marketing@pridemobility.com). Providers and clinicians can also directly access the Pride Learning Management System via the app for online CEU courses.
"We are excited to release this app as part of our efforts to reach our providers and clinicians in a way that meets today's technological demands and provides a great user experience," said Kate Pencek, senior director of IT & Enterprise Architecture at Pride Mobility/Quantum Rehab. "The app is simple and user-friendly yet contains a wealth of knowledge. We want it to be a true, convenient, one-stop digital hub for all the Quantum information clinicians and providers need."
Megan Kutch, director of Quantum Marketing, says feedback from clinicians and providers was used to develop the app. "We have been asked by providers and clinicians for serial number and order number search functionalities, and we thought the app is the best place to put them for easy access," she says. "We also made sure to include fillable order forms on the app since we know most quotes are completed during or immediately after an evaluation. In addition, push notifications will ensure product launches and news are never missed."
The app is available for download via the Apple Store and Google Play. It replaces the Quantum Professional app. Click here to check out a video of the new app.