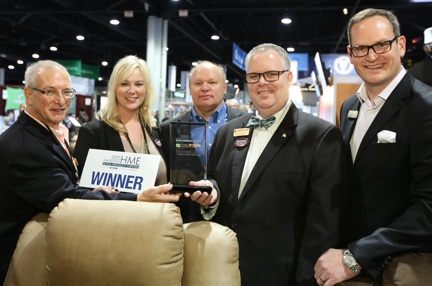 ATLANTA – At the Oct 2015 Medtrade, judges and attendees cast their votes for the top three products in the biannual Innovative HME Retail Product Awards (sponsored by HomeCare magazine). The DayDreamer Lift Chair from Golden Technologies took third place after manufacturer representatives from all eight finalists made presentations in what proved to be a tight race.

Medtrade Monday sat down with C.J. Copley (pictured, far right), executive vice president, Marketing & Sales, Golden Technologies, to get a sense of what appealed to attendees.
Greg Thompson, editor of Medtrade Monday: Why do you think attendees voted for your product?
C.J. Copley, executive vice president, Marketing & Sales, Golden Technologies, Old Forge, Pa: We think attendees recognized three characteristics about the Daydreamer that are unique among the winners: 1) The DayDreamer's market size is vast. Due to the contemporary design, innovative Power Pillow, and patented recline, this recliner will be more desirable for more consumers compared to most Lift Recliners; 2) The DayDreamer offers an impressive margin. Retailers need to be cognitive of the profit various products generate per square foot. The DayDreamer is recognized as being an impressive contributor; 3) Risk is limited because it requires little space. Retailers only need to take up a 3-foot by 3-foot space to generate impressive returns.
Thompson: What is your level of optimism these days when it comes to the DME industry?
Copley: We're impressed by our retailers every day. We see them growing, evolving, improving, and looking for change. While times have been difficult, so many great people are doing so many amazing things. We find that if we listen to the needs of our retailers, provide innovative concepts, and continue to deliver quality products, our retailers can build their business. Optimism is a choice.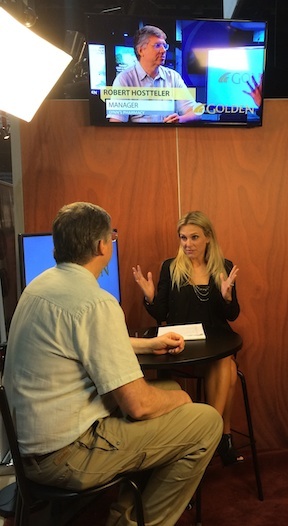 Thompson: What kind of marketing help/advice can you offer to DME providers who may want to carry your product?
Copley: We suggest retailers categorize their marketing efforts into two areas: 1) Driving traffic to the location; 2) Driving in-store traffic to their Lift Recliner area. In retail, the most important formula to understand is "Traffic=Sales." This is a simple, but critical formula. We at Golden offer free customized marketing services for both areas. Free tools to help drive consumers to a location include: Customized TV Ad Spots; Videos for Facebook; Print ads; Newspaper Ads; Radio Ads; Website Images; and Digital Video loops for lead generation. Free Tools to help drive consumers to the Lift Recliner area when in the store include in-store digital loops and various printed professional catalogs. Retailers should consider multiple mailings to their customer lists throughout the year. Why not ask us for a postcard to be mailed or dropped into store bags to spread the word? The imagination is the limit. Golden has so many tools to help our retailers build their sales. 
Thompson: Do you plan to be at Medtrade Spring 2016?
Copley: Yes! We plan to continue our support for our western retailers. We look forward to seeing them in Las Vegas next year. 
Golden Technologies' digital media section [pictured] at Medtrade was "non stop," serving as a place to build digital media content for retailers to help them sell and communicate who they are to their community. "We've done about 40 interviews over the first two days," reported Copley from Medtrade.
Register today for Medtrade Spring before early registration rates end at midnight on Dec 18. Medtrade Spring is Feb 29-March 2, 2016, at the Mandalay Bay Convention Center in Las Vegas.
Click Below to See Pricing
https://medtrade.com/spring/attendee/pricing.shtml
Click Below to Register
https://registration.experientevent.com/showMTH162/default.aspx?flowcode=Attendee