ATLANTA – Seven months after earning the New Product Pavilion Providers' Choice Gold award at Medtrade Spring in Las Vegas, the Flyp Nebulizer from Convexity Scientific scored another top prize at Medtrade earlier this month. The latest award is no less than a first place finish in the Innovative HME Retail Product Awards, sponsored by HomeCare magazine.
During a session on day one of Medtrade 2018, Geoff Matous (pictured), chief commercial officer, Convexity Scientific Inc., Fairfield, Conn, made a convincing case that highlighted the Flyp's innovation, functionality, and ease of retail set-up. Judges and attendees chose from among seven finalists who made presentations at Medtrade.
"I would call it a rare double feat to win Providers' Choice Gold at Medtrade Spring and first place in the Innovative HME Retail Product awards, but as far as I can remember it's really an unprecedented feat," said Kevin Gaffney, group show director. "Medtrade attendees have clearly embraced the Flyp Nebulizer."
Medtrade Monday sat down with Matous to learn more about the product that so captured the attention of attendees and judges at Medtrade Spring and Medtrade.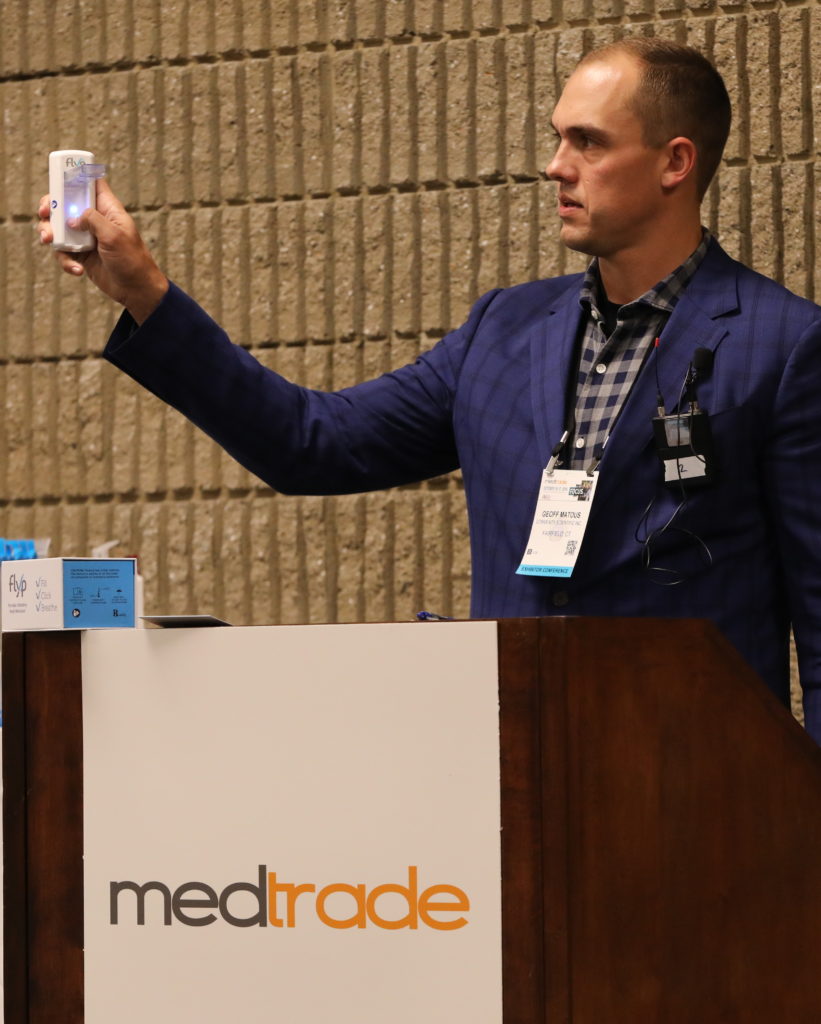 Medtrade Monday: Please remind us about the origins of The Flyp.
Matous: It started with the creator, Ralph Finger, M.D., an E.R. doctor who had two relatives living with respiratory conditions. He felt he could improve compliance for patients with asthmatic conditions, including his relatives, by making a nebulizer device truly portable, and making it so simple that a 6-year-old could treat herself. From drawings on a piece of paper, the Flyp was born.
Medtrade Monday: Why do you think the Flyp has resonated with Medtrade attendees?
Matous: We as consumers expect our devices, especially on the health care side, to be portable, convenient, aesthetically pleasing, and as simple to fit into our lives as possible, but that did not seem to be the case for nebulizers. Dr. Finger is an innovator, a tinkerer, and a true visionary, and he decided to radically reinvent the nebulizer. There were portable nebulizers out there at the time, but those were still falling short of that true value proposition of being portable and being a good clinical tool at the same time. He took a different approach.
Medtrade Monday: How long has it been from inception to launch?
Matous: It started in 2012, and over the course of the next few years, the device was eventually submitted for FDA 510k approval in 2017. It received approval in May 2017 as a product that did not have a brand yet. The company was funded initially by friends and family who believed in the mission. They raised more capital in Nov 2017 and there were some private and institutional investors. In Dec 2017, I came on board.
At Medtrade Spring 2018 in Las Vegas, we won the New Product Pavilion Providers' Choice Gold Award, sponsored by HomeCare Magazine. We did a soft launch at Medtrade Spring and it was astounding. We decided we needed to accelerate through our early commercial phases and make sure we were ready to go through national launch as soon as we could, and that is what we just did at Medtrade 2018 in Atlanta.
Medtrade Monday: At Medtrade you won an award that specifically honors products for retail sale. Why is the Flyp so well suited for retail?
Matous: We want to make sure we are giving retailers and dealers, maybe even those dealers who are not quite all the way into retail yet, the right tools and products to be successful. I was hit with the value proposition of the brand with its polished packaging.
Medtrade Monday: After the soft launch at Medtrade Spring, how have things progressed?
Matous: Just after Medtrade Spring, we launched in Aug 2018, and since then about 600 U.S. DME providers have taken on our product. We owe it to them now to help turn that investment into sales. We want people coming into the store requesting the Flyp by name. We will continue to innovate in our marketing materials to help providers promote the Flyp at retail.