SAN FRANCISCO – ResMed recently debuted Mobi, its first ResMed-branded portable oxygen concentrator (POC). Mobi offers a balance of oxygen delivery, weight, and battery life so that millions with chronic obstructive pulmonary disease (COPD) or other respiratory condition can enjoy ResMed-quality oxygen therapy at home or on the go.
"We have focused decades of patient-centered ResMed technology and design innovation into this POC," said ResMed CEO Mick Farrell. "We've achieved great mobility, comfort and therapy quality in sleep apnea treatment with AirMini, the world's smallest PAP device. Mobi offers that same great balance to the many millions of people who rely on supplemental oxygen to enjoy their highest quality of life."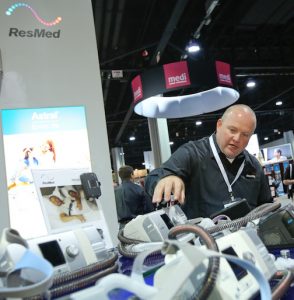 Mobility is particularly key for oxygen patients with COPD. Regular physical activity is shown to lower the risk of hospitalization and death among those with COPD, according to a 2006 study published in Thorax: http://thorax.bmj.com/content/61/9/772.
"The time is now for portable oxygen," said Farrell. "Our patients demand a device that enables them to get out of their house and travel to visit friends and family. Mobi gives the gift of freedom to millions."
Attendees at Medtrade Spring, scheduled for March 27-29, 2018, will get a chance to see the Mobi and several other ResMed products. Other sleep-related manufacturers will be in attendance at the show, which takes place at the Mandalay Bay Convention Center in Las Vegas.
Early registration rates for Medtrade Spring are in effect until Wednesday, Jan 31. "Early rates will be gone before you know it," says Sarah Varner, marketing director, Medtrade. "2017 flew by and the first month of 2018 won't go by any slower. An expo pass gets you in front of hundreds of exhibitors and products, and a conference pass includes that plus access to education and experts. Don't let this great value pass you by. The exact deadline is Jan 31."