AUCKLAND, NZ – Medtrade exhibitor Fisher & Paykel Healthcare Corp reported positive results for the full year ended March 31, 2020, with operating revenue of $1.26 billion, up 18% over last year, or 14% in constant currency. Net profit after tax was $287.3 million, up 37% over the previous year. Excluding the impact from tax changes, being the R&D tax credit and building tax depreciation, net profit after tax grew 23% in constant currency.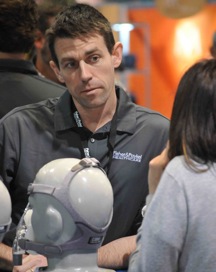 Officials attributed the increase in revenue to growth driven by the use of the company's Optiflow™ nasal high flow therapy, demand for products to treat COVID-19 patients, and strong hospital hardware sales throughout the course of the year. "The 2020 financial year was already on track to deliver strong growth before the coronavirus impacted sales," said managing director and CEO Lewis Gradon. "Beginning in January, the demand for our respiratory humidifiers accelerated in a way that has been unprecedented.
"With new processes, new procedures, and new ways of working safely, we managed to double and in some instances triple, output for some of our hospital hardware products over just a few months at the end of the year," Gradon continued. "I'm incredibly proud of our people and their unyielding commitment to doing the right thing for patients."
For the Hospital product group, which includes products used in respiratory, acute and surgical care, operating revenue increased 25%, or 21% in constant currency, to $801.3 million for the year. Sales from new applications consumables, which includes products used for nasal high flow therapy, increased by 23% in constant currency over the previous financial year.
For the Homecare product group, which includes products used in the treatment of obstructive sleep apnea (OSA) and respiratory support in the home, revenue rose 9%, or 4% in constant currency, to finish at $457 million for the year. During the year, the company introduced its F&P Vitera™ OSA full face mask into the US market and launched the new F&P Evora™ compact nasal mask in Australasia, Europe, and Canada. Both of these new masks have been well received.
Gross margin decreased by 73 basis points to 66.1%, primarily driven by additional air freight costs required to acquire increased supply of raw materials and expedite finished goods to customers for patient use toward the end of the financial year, as well as the additional start-up costs of the company's second Mexico manufacturing facility.