ATLANTA – An estimated 42 million American suffer from sleep-disordered breathing, yet many HME providers struggle to support their patients and grow their CPAP resupply businesses. Reimbursement cuts and competitive bidding have created hurdles, to the point that many people in the industry now consider resupply a dead end. Medtrade exhibitor Brightree has heard these issues from HMEs, and is making an effort to provide new tools and programs to help providers with patient care needs.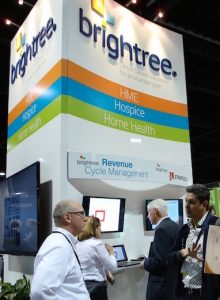 One area of focus is giving providers the technology, data and manpower to help regularly contact CPAP patients who might otherwise stop their therapy or using equipment. Effective provider-patient communication is a challenge in the industry. It may not be surprising to you that 83% of HMEs place a significant value on an automated patient contact system in their resupply business, according to a recent internal Resupply Benchmark survey from Brightree. The feedback came from HMEs on the state of CPAP patient resupply.
The purpose of the Brightree survey was to learn more about the challenges facing provider customers, including patient retention/enrollment/education, profitability, shipping needs, workflow, staff resources, and outsourcing. Among the results that stood out were providers' needs for better access to resupply data and more automation.
Brightree listened and is providing new outsourced services to help HMEs with resupply patient contact management. This summer, Brightree rolled out of an automated resupply enrollment program for patients which HMEs are calling a "huge time-saver," and gave providers the ability to automate the ordering process, enabling direct-to-patient shipping. Brightree's acquisition of AllCall Connect also enabled it to offer a live-calling solution to HMEs to improve patient care.

Now Brightree is ready to unveil its latest resupply innovation at Medtrade (Booths #710 and #1211) in Atlanta on October 24-25. Attendees can expect demos and presentations on how to optimize a resupply program, using tools and data to improve patient compliance, conversation, retention and measurement.
In addition, at the Brightree Summit, Brightree's user conference on October 23, HMEs can attend the session "Resupply 2.0 – See the Future of Resupply!" from 4:00 p.m. – 4:45 p.m. to learn how to use automation technologies, managing data and better businesses processes while providing great patient care. Summit attendees can also learn more about Brightree's resupply solutions at the Brightree Trade Show. Details are available at www.brightree.com/summit.
To learn more about Brightree's resupply management efforts and enhancements to its resupply program, read the HME News article "Brightree taps customer input" at http://www.hmenews.com/article/brightree-taps-customer-input.