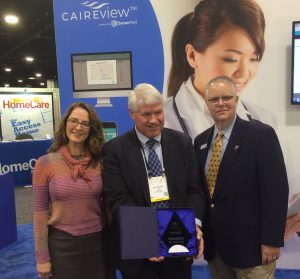 ATLANTA – Medtrade attendees voted on their favorite products last month to determine winners at the New Product Pavilion Providers' Choice Awards (sponsored by HomeCare Magazine). In a close vote, the Providers' Choice Bronze Award went to CAIREview™ powered by SynsorMed (pictured: Elizabeth Carey, editor, HomeCare Mag; Dan Van Hise, vice president, Chart BioMedical Marketing; and Kevin Gaffney, group show director, Medtrade).
CAIREview is a new telehealth solution app from CAIRE Inc. that allows DME providers to track the location of their assets, trouble shoot alarm codes, monitor oxygen flow rates, and avoid costly after-hours visits. "It's cost prohibitive for some to even stay in the industry due to the lower reimbursements," said Theodore Harvey, CEO, SynsorMed, Atlanta. "The ability to lower the cost of managing those devices [oxygen concentrators], and have remote information about those devices, can help providers save money."
CAIRE Inc. and SynsorMed formed a strategic relationship in 2017 to create a telehealth solution for the CAIRE line of oxygen concentrators. The software platform was created to help providers wanting to geotrack the location of their oxygen equipment, monitor the device performance remotely, and boost referrals due to increased telehealth capabilities available on these devices.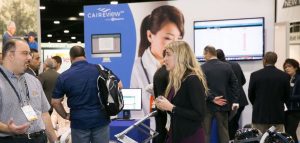 CAIREview powered by SynsorMed is the outcome of this relationship, and it will be featured exclusively on CAIRE oxygen concentrators beginning in 2018. Initially, products will include the Eclipse 5 portable oxygen concentrator and the Companion 5 stationary oxygen concentrator.
CAIRE Inc. holds the exclusive, global license for the SynsorMed software for low flow portable and stationary oxygen concentrators in perpetuity. CAIRE Inc. is a Chart Industries Company based in Ball Ground, Ga, just north of Atlanta. Attendees at Medtrade Spring, scheduled for March 27-29 at the Mandalay Bay Convention Center in Las Vegas, will have a chance to see CAIREview in action at the company's booth.