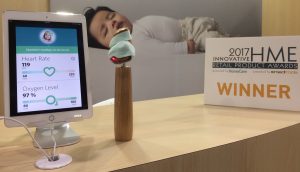 ATLANTA – The first place finisher in last month's Innovative HME Retail Product Awards (sponsored by HomeCare Magazine) at Medtrade aims for the younger crowd—the much younger crowd. Specifically, the Owlet Smart Sock 2 from Owlet Baby Care, Lehi, Utah, is a sock design that wraps around a baby's foot and measures an infant's heart rate and oxygen levels.
The new product also took home the New Product Pavilion Providers' Choice Gold Award (also sponsored by HomeCare Magazine). The rare double honor marks the first time that any product at Medtrade managed to capture both first place awards. The Innovative HME Retail Product Awards are voted on by attendees at a specific session. Votes from New Product Pavilion attendees are collected and tabulated to crown the gold winner for the Providers' Choice Awards.
Bruce Clark, retail account manager (and a three decade retail veteran), Owlet Baby Care, agreed to talk about how providers can use the Smart Sock 2 as a stand-alone cash item, or as an addition to breast pump sales.
Q: Why do you think providers at Medtrade responded so well to your product?
Bruce Clark, retail account manager, Owlet Baby Care, Lehi, Utah: The industry is craving something new. They are craving cash sales to take the business to a different level and direction.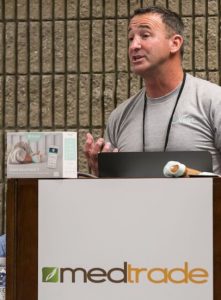 Q: How can providers use this product to further the business?
Clark: One of our DMEs is now setting up a baby area along with their breast pumps. They have the Owlet product there, and they are going to bring in some other things. Everyone who comes in for a breast pump should be told about the Owlet, because DMEs have to compete in a different way these days. I've been in some DMEs, and they say, 'Oh, we just don't do any of the baby stuff,' but why not?"
Q: What's the difference between this and other baby monitors?
Clark: We do something different. A traditional baby monitor measures externally. The Owlet measures heart rate and oxygen level. We also have upgrades now such as the sock design that wraps around the foot. We upgraded the Bluetooth from about 30 feet to about 100 feet now. We are wireless and we have the apps to be able to communicate with the device. We've got all that information going to the cloud rather than it going on the drive itself. There are a lot of benefits to the Owlet product as the DME industry accepts it.
Q: What are your future marketing plans?
Clark: DME is a market we are going to stay in, so I can't imagine us not going to Medtrade Spring, because we are going to see a whole new demographic there from the west. Atlanta was a great show for us. It's bringing technology that the DME industry understands—pulse oximetry—and bringing it into a different element, to the wearables. Now we're giving wearables to kids. It's really the first entry into the wearable market for infants, so that's a cool thing.
Owlet Baby Care earned the awards at Medtrade, held last month at the Georgia World Congress Center in Atlanta. DME providers will get another chance to learn from the best experts in the industry, and learn about the newest products, next year at Medtrade Spring, scheduled for March 27-29, 2018, at the Mandalay Bay Convention Center.