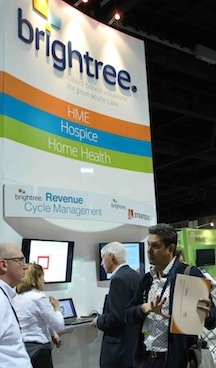 CLEVELAND – Compass Health Brands™ has partnered with Brightree®, a provider of cloud-based clinical, business management and billing software for the post-acute care industry, as an integrated electronic purchasing partner.
DME/HME dealers can now streamline their workflow by ordering equipment and supplies from Compass Health Brands directly through the Brightree Integrated ePurchasing platform.
When a dealer creates a purchase order in the Brightree platform, a transmission is sent from Brightree through a secure FTP connection to Compass Health. This new electronic link between the two systems enables providers to view item availability and pricing in real time. In addition, they can perform one-touch drop shipments, receive automatic confirmations and submit purchase orders directly to Compass Health. Any dealer currently using Brightree can utilize the integrated ePurchasing feature at no additional cost.
"The Brightree platform enables our customers to easily order and drop-ship our products (DME, mobility, pressure prevention, support surfaces to respiratory and CPAP) within a single interface saving valuable time, reducing operating costs and improving patient care with faster delivery of products," said Stuart Straus, president and CEO of Compass Health Brands. "Brightree will not only enhance our customer's experience, but will enable us to once again exceed their expectation."
"HME providers want to streamline workflows and improve operational efficiencies, and at Brightree we want to give them the solutions to help achieve these goals," said Rob Boeye, executive vice president, HME, at Brightree. "Partnering with Compass Health enables us to drive our customers' experience to reduce their operating costs, save time and improve patient care with seamless ordering and faster supply delivery."
The Brightree collaboration follows on the heels of the Compass Health's purchase of both ProBasics from Invacare Corporation and Meridian Medical.
Brightree will exhibit its ePurchasing solution in booth #1745 at Medtrade, scheduled for Oct 31-Nov 3 at the Georgia World Congress Center in Atlanta.
Bob Phibbs, "The Retail Doctor," to Present at Medtrade
OLD FORGE, PA – Golden Technologies will sponsor an exclusive presentation by Bob Phibbs, The Retail Doctor® during the upcoming Medtrade. Medtrade will be held at the World Congress Center in Atlanta, Georgia, and Phibbs will be presenting in Room C111 at 4:00 p.m. on Monday, October 31, 2016.
Golden invites all professional-minded individuals to attend the seminar who are interested in learning how to take retail sales to the next level and achieve true business success. Whether you are a store owner, a manager, or a sales person, attending The Retail Doctor's seminar at Medtrade will educate you on the following skills:
• how to engage your customers, make larger sales, and earn the profits you seek;
• how to increase your value through your people, not your price; and
• how to grow your sales and margins using easy retail tools.