LAS VEGAS – Prometheus Group is on a mission to help HME providers prosper in a new era of value-based care. Medtrade Spring attendees looking to streamline their operations will get a chance to meet with the company's representatives at Booth #1150 when the show floor opens on Feb 28 and March 1. Educational sessions at the Mandalay Bay Convention Center in Las Vegas start one day earlier on Monday, Feb 27.
The North Carolina-based Prometheus Group is a long-time supporter of Medtrade Spring, and Joey Graham, vice president, Operations, calls the show "not optional" for a variety of reasons. Medtrade Monday sat down with Graham to get a look at what Prometheus offers, as well as why providers should consider making the trip to Medtrade Spring this year.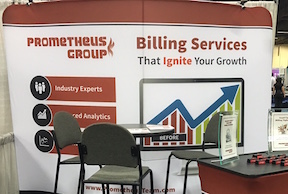 Medtrade Monday: Why should attendees pay a visit to your booth?
Joey Graham: In today's environment of continually decreasing reimbursement, it's become very important to involve revenue cycle experts like Prometheus Group to improve performance and reduce labor costs. Attendees can expect to visit with our top leadership and have an honest discussion about their revenue cycle pain points along with potential solutions. They will be provided with literature on our major services. We've also got one of the best giveaways at the show.
Medtrade Monday: What services does The Prometheus Group offer?
Joey Graham: From staff augmentation and operations consulting to full service billing, we equip HMEs and DMEs to compete more effectively. Our fresh approach streamlines operations and leverages advanced technology to help HMEs increase efficiencies, collect faster, and grow their business. A trusted partner since 1999, we apply innovative solutions to collect millions of dollars every year for clients across the United States.
Medtrade Monday: Why do you choose to exhibit at Medtrade Spring?
Graham: To us, attending Medtrade and Medtrade Spring is not optional. It is the premier bi-annual event for the HME industry—the two times each year that the true core or our industry comes together. These are the primary reasons why we consider the show so important. The networking/social aspect is #1 for us. It's when we have the most exposure to our peers, customers, and prospects, as well as the industry's leadership and media.
At each Medtrade, we walk away with many new leads. We use Medtrade as an opportunity to meet face-to-face with our prospective clients. For the attendees, nothing matches seeing, holding, and demo'ing the products and talking directly to vendors. It's such a great opportunity to get caught up on the latest and greatest innovations in the industry. Both giving as speakers and receiving as attendees to conference sessions, we always leave Medtrade with new ideas about what we can implement in our business.
Representatives from The Prometheus Group will be speaking at the following educational sessions:
• Top Audit Strategies (Room South Seas A) – Tuesday, Feb 28, 2:45 p.m. – 3:45 p.m.
Speakers: Denise Leard (Brown & Fortunato); Sharon Briggman (The Prometheus Group)
• HME Best Practices (Room South Seas H) – Monday, Feb 27, 1:45 p.m. – 2:45 p.m.
Speakers: Joey Graham (Prometheus Group); Allen Clark (Performance Home Medical); Miriam Lieber (Lieber Consulting); Tara Elliston (Geneva Woods Pharmacy); and Todd Usher (Home Oxygen Co)