LENEXA, KS – Mediware Information Systems Inc has finalized an agreement to acquire Kinnser Software Inc, a provider of software solutions for home health and hospice providers. The transaction, backed by TPG Capital, enables Mediware to expand its portfolio in the home health and hospice space, creating an integrated, high-growth software provider for the alternate care market. The transaction is expected to close at the end of the second quarter and is subject to customary closing conditions, including regulatory approvals.
"Kinnser's intuitive platform provides Mediware with additional depth, expertise, and capabilities to strengthen our platform in the home health and hospice space," said Thomas Mann, CEO of Mediware. "This transaction marks our next step as we continue to expand our offering as the leading, integrated supplier of software solutions for alternate care providers. With Kinnser, we add home health and hospice to our leading positions in software solutions for home IV, home medical equipment and rehabilitation providers. We are excited to work together to continue to accelerate Mediware's growth."
Providers and Exhibitors Tout Benefits of Software
ATLANTA – Several software companies are signing on to exhibit at Medtrade, scheduled for Oct 23-25 in Atlanta, demonstrating just how much the right technology can help providers succeed in today's world. Kim Commito, director of Product Management, Home Care Solutions, Mediware Information Systems Inc, points out that provider enthusiasm for software comes down to better operational efficiency.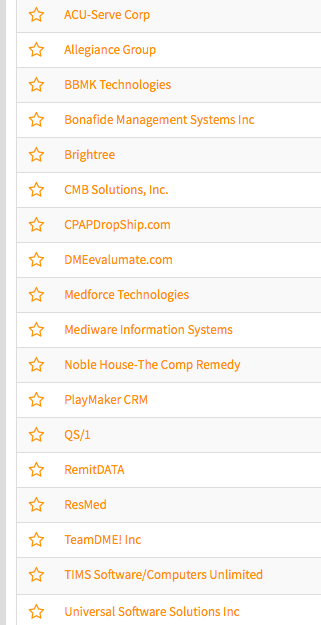 "From patient to delivery to inventory to revenue cycle management, it is essential to have the proper automation tools in place," says Commito. "Ensuring that your software platform can be flexible, integrate to other platforms, and is easy to use, is imperative. With all of the operational, regulatory, and cost management challenges facing today's HME provider, having the proper tools to do the job is a must and that begins with a complete, proven and effective software solution built for the HME industry."
Mark Nicotera, president of Arizona-based AZ MediQuip Inc, has a growing business focused solely on retail/caretail (featured in last week's I Am the HME Industry). Nicotera maintains that software is also incredibly important in the non-reimbursement world, but he contends that a retail DME in particular needs simplicity in its user interface, low cost, complete features for inventory control and SKU creation, and multi-store inventory control.
"While you can run a store with a product like Quickbooks, it isn't an elegant solution," muses Nicotera. "Cloud-based systems are the only choice in my opinion. AZ MediQuip is using two different cloud-based POS packages in search of the ideal solution. Equipment rentals are by far the biggest challenge these systems present—one of the system does support rental transactions, but does so poorly at the moment. I have researched other systems that are OK with rentals but fail at regular sales transactions and inventory control. The ideal solution has not yet been built."
Nicotera and others will be on the lookout during Medtrade at the Georgia World Congress Center that will include the software companies listed on the right.