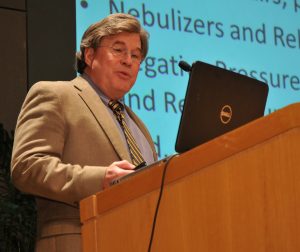 AMARILLO, TX – Last week, I wrote an article discussing the aggressive approach CMS is taking against mail-order orthotics suppliers. My article triggered an email from a West Coast orthotics supplier that discusses a "real world" example of what is driving CMS to aggressively scrutinize mail-order orthotics suppliers that rely on orders from telehealth physicians. The West Coast supplier gave me permission to reprint a redacted version of his email to me. Here it is:
"Mr Baird,
I read your article today in Medtrade Monday, and it really irritates me to see how people are ripping off the system and making it way more difficult for the rest of us who are trying to do it right. My wife does some caregiving for a 94 year old man here in Southern California and she had a box arrive full of medical equipment. It was from __________, [an out-of-state orthotics supplier], and was drop shipped by _________, [a company located in a different state than the orthotics supplier]. The box included 2 OA knee braces L1851x2 (rt and lft), 2 knee suspension wraps L2397x2, Shoulder Arm abduction system (size Large) L3960, Back brace L0631 (size large), and a Mesh Shoulder Immobilizer (size large) L3660.
First of all the patient has no knee pain, no back pain, and no shoulder problems. He weighs about 110lbs and definitely nothing about him would indicate he needs size large. Because I'm in the business I know that the L2397 suspension wraps are only supposed to be provided when a qualified individual determines that they are needed to help hold up the brace or prevent some other problem. Well, if the product arrives by Fedex, who made that determination? I have spoken with the family and no one remembers ordering these products. We're waiting for the EOB to arrive to see what doctor signed the order for these products.
The cost to the taxpayer for products that were never needed includes:
L1851 x 2                    840.73 x 2 = 1681.46
L2397 x 2                    118.63 x 2 = 237.26
L0631                                      961.89
L3960                                      860.73
L3660                                      106.85
Total                                       3814.19
I can tell that the manufacturer and the distributor have worked out a program to ship all of these products as a package since it was drop shipped and everything fit perfectly into the shipping container, like it was all made to fit together.
This type of behavior needs to be stopped and it's giving a black eye to all of us who try to run a legitimate business. If Medicare is seeing these types of claims, I know why it is starting to clamp down on the waste and fraudulent activity."
If an orthotics supplier is billing a lot of money to Medicare, and if many of the claims are the same, then the edits that CMS has in place will be triggered. CMS, usually through one of its contractors, will look at the supplier. If CMS observes that most of the physician orders are from physicians who are located in towns other than where the patients reside, then CMS will likely conclude that the orders result from telehealth encounters. As I discussed in last week's Medtrade Monday article, as well as in my August 7, 2017 Medtrade Monday article ("Telehealth Arrangements: Continued Scrutiny"), (i) there are kickback concerns arising out of telehealth encounters that are indirectly funded by the orthotics suppliers and (ii) Medicare will pay for orthotics, in which the physician orders result from telehealth encounters, only if a number of conditions are met.
It is the type of practice, discussed in the redacted email (above), that generates governmental scrutiny…and that causes headaches for those orthotics suppliers that strive to operate in a compliant fashion.
Jeffrey S. Baird, JD, is chairman of the Health Care Group at Brown & Fortunato, PC, a law firm based in Amarillo, Tex. He represents pharmacies, infusion companies, HME companies and other health care providers throughout the United States. Baird is Board Certified in Health Law by the Texas Board of Legal Specialization, and can be reached at (806) 345-6320 or jbaird@bf-law.com.