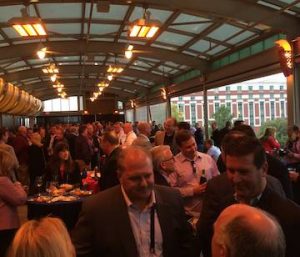 ATLANTA – Networking events at Medtrade are fun and often packed with additional knowledge from peers who face similar business challenges. Since you're already making the effort to be at the show, maximize your days with these events, and get back to the office energized and inspired.
Day One – Oct 23
The Audit "Happy" Hour
Monday • 5:30 p.m. – 6:30 p.m. • Room C201
Sponsored by: Medforce Technologies; Mediware Information Systems; Pride; and The van Halem Group
The Audit Happy Hour is an opportunity to meet with audit experts at a relaxed networking reception. Grab a glass of wine, beer, or soda (audits do drive us to drink, right?!), and enjoy this unique Q&A and networking opportunity. Registration fee varies with time of registration (save by registering early!). Advance registration required. Click Here to Register. 
Day Two – Oct 24
Stand Up for Homecare Fundraising Event
Tuesday • 5:30 p.m. – 7:00
• Skylounge at the Glenn Hotel
Click Here to purchase tickets and read more about the event.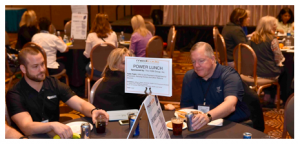 Day Three – Oct 25
Power Lunch
Wednesday • 11:45 am – 1:15 pm • Room C112
Sponsored by: VGM
Real food for thought! Fuel up on lunch and information crucial to making your business survive and thrive. Fill your plate with a quick lunch and head to your pre-selected table (eight different topics) where the moderator will kick-off your roundtable group discussion. Learn from experts, hear from your peers, and take back solutions Registration fees vary with time of registration, advance registration required. You must select one table to attend when registering and remain at that same table during the event. 
Closing Reception & $5,000 Cash Giveaway
Wednesday • 3:45 p.m. – 5:00 p.m.
• In front of the AAHomecare Booth #1811
To enter the cash giveaway drawing, you must get your cash giveaway card (received with badge at registration) and have your card stamped by all ten of the sponsors.
Special thanks to AAHomecare, PPM Fulfillment, and The VGM Group
Turn in your completed card at the American Association for Homecare booth, #1811, and gather around the booth at 4:45 for the live drawing.
 YOU MUST BE PRESENT TO WIN. If winner is not present, a new name will be drawn. Winner will be mailed a check after the show.
See You at the Show
Only two weeks remain until Medtrade convenes Oct 23-25, at the Georgia World Congress Center in Atlanta. Medtrade is the Fall edition of the nation's premiere HME trade show. With discount pricing, providers can still save money over day-of-show rates. It's a wise investment, because the inspiration and product ideas from Medtrade can lead to success.
Attendees asked for more "town hall" like sessions, fewer "lecture style" presentations, and more panel discussions (including competitors in some cases!). Organizers introduced the new format at Medtrade Spring 2017, and surveys came back overwhelmingly positive.
The Medtrade 2017 program will incorporate these changes and also have some sessions with a new seating arrangement to encourage more interaction and discussion among attendees. Conference sessions are open to attendees with a conference pass (not expo), unless the session is indicated as open to all.
Like last year, workshops and educational sessions will take place on Monday (Oct 23), with additional sessions on Tuesday (Oct 24) and Wednesday (Oct 25). Show floor hours will be 10:00 a.m. – 5:00 p.m. on Tuesday (Oct 24) and Wednesday (Oct 25).
Workshop Add-Ons Still Available
ATLANTA – Similar to last year, workshops and educational sessions will take place on day one of Medtrade (Monday, Oct 23). Opening day is an excellent opportunity to experience multi-hour, in-depth learning—or shorter educational sessions.
Workshops may be added to an expo pass or a conference pass, and additional registration is required. Fees vary per workshop. The following multi-hour workshops will be offered:
An Introduction to the Certified Durable Medical Equipment Specialist (CDME)
VGM's Breaking Bad 2017 Reimbursement Seminar
HME Master Sales Training
Brightree Summit (register directly with Brightree at www.brightree.com/summit, not a Medtrade event)

To learn more about all the workshops, Click Here.
To learn more about educational sessions on Monday, Click Here.