ATLANTA – The right tools can bring the right outcomes for your business and your patients. Brightree offers digital automation tools for patient engagement, big data and analytics, and electronic prescriptions so your organization can replace today's challenging healthcare environment with the level of efficiency you need to provide great patient care—all while achieving financial success.
Are you scrambling to find a way to do more with less? Follow these 3 steps to put yourself on the path to efficiency in 2019.
1) Address patient engagement opportunities. We all know that apps are everywhere, and there are several healthcare-related apps that have been introduced in the market related to physicians and patient engagement. But Brightree took the lead in introducing a patient engagement app that targets patients in the HME market with conveniences like payments, scheduling and communication. Patient Hub is an app that greatly expands a provider's reach without having to build it themselves. It's for your patients and allows you to engage with these patients.
You can automate simple, repetitive processes like insurance card uploads and demographic updates, order status and push notifications. And patients can initiate and complete tasks themselves like resolving insurance issues, sleep resupply ordering and paying copays upfront. This new patient app is the easiest and most automated way to connect to your patients because it consolidates all patient interactions into one platform, reducing provider resources all while increasing engagement ease and automation.
The main benefit you can expect is the ability to leave inefficiency behind. You'll see a reduction in time and expense and an increase in engagement and revenue. The app reduces calls to patients and the real labor costs associated with that while connecting with patients at the right time and in the right manner to ensure the right results for your business and your patients.
2) Put data to work for you. If you're not already using data, you're setting yourself up for some big challenges in today's marketplace. Analytics gives you the insights and actionable information you need to compete effectively in the post-acute care space.
For example, if there's a sizeable amount of accounts receivable, the best solution may not be to add staff to follow up and work the denials. Instead, the root cause might be that the sales order confirmation team is confirming orders without the proper QA requirement or it might be issues on the CSR front. Data tells you where and how to address the issues.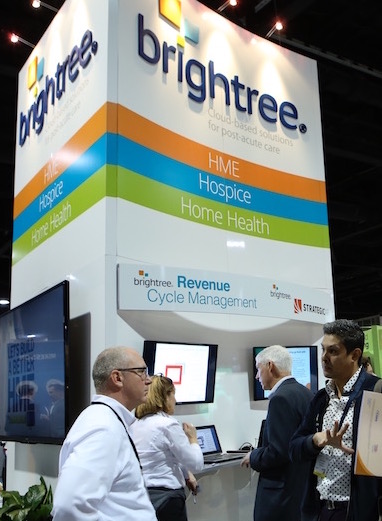 The Brightree Advanced Analytics platform brings in data not only from the Brightree platform but also from defined third-parties to provide a more holistic view of data and insights. Benchmarking with your peers is another important capability you gain. And Brightree even uses historical data to predict future outcomes of your business in areas like resupply and revenue cycle management. 
3) Plug into front-end automation. Tired of the disconnect when orders are lost or documentation is lacking? ePrescribe is your answer to connecting with your referral sources efficiently and electronically and positioning you as an extension of their care team.
With ePrescribe, referral sources can send an accurate and understandable order to you in an electronic format, which can be automatically placed into your business management software. This gives referral sources the confidence to know their patients will be cared for and eliminates the needless time and money spent chasing down a CMN or other paperwork.
In fact, HME providers have found that using Brightree's ePrescribe significantly reduces the time and cost of every order they process and also automates follow-up steps involving documentation, resupply and recertification of patients. And by getting the right information in with an order, you can file your claims faster, which greatly impacts your financial metrics – from working capital to days sales outstanding. Most importantly, ePrescribe means better treatment for patients because you're able to accelerate their care.
Harnessing the power of today's digital automation tools will put you on a profitable and patient-centric path in 2019. Find out more on Patient Hub, Advanced Analytics and ePrescribe at www.brightree.com.
Rob Boeye is executive vice president, HME, at Brightree.
Brightree Preps for Medtrade Spring 2019
LAS VEGAS – Brightree will once again bring its considerable expertise to Medtrade Spring, scheduled for April 16-18, 2019, at the Mandalay Bay Convention Center in Las Vegas. Described as "technological caregivers," the Atlanta-based Brightree will make its presence known as an exhibitor (April 17-18) on the show floor, and as a workshop host/presenter on Tuesday, April 16, 12:00 PM – 4:00 PM, for its Best Practice Checklist for Productivity and Management. Workshop attendees will learn how to identify key performance indicators (KPIs), develop a revenue quality assurance plan, and manage productivity. The workshop is open to Brightree customers only. Three other workshops are available as an add-on to the conference or expo pass, and Fees vary per workshop.