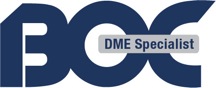 ATLANTA – If you're looking to differentiate yourself from others in the DME field, BOC (Booth #1314 at Medtrade) and the MED Group (Booth #2319) are offering an opportunity at Medtrade to become a Certified DME Specialist (CDME).
The CDME certification demonstrates a broad understanding of the DME industry, including the intake process, product selection, dispensing and setup, documentation, billing, compliance, and performance management.
The MED Group is hosting a special one-day CDME workshop at Medtrade in Atlanta, and BOC will administer the CDME paper exam two days later at the same location.
Become a CDME in two simple steps:
1) Attend the CDME Workshop and Exam Prep Course on Monday, Oct 26, from 10:00 a.m. – 4:00 p.m.
2) Take the CDME exam on Wednesday, Oct 28, from 8:00 a.m. – 10:00 a.m.
Those interested may register for the workshop on Medtrade's website at this link. Registration is $399 and includes full admission to the conference and expo. If you enter code BOCMT15, you will pay $50 less.
If you can't make it to the prep course, that is no problem. The course is optional, and attendees can still take the exam on Oct 28. Note that previous attendees have benefited from this workshop. Following the prep course held at Medtrade in Oct 2014, the pass rate for the CDME exam was 90%.
To sign up for the CDME examination, apply for the paper exam by going to the CDME exam link on the BOC web site.
The cost of the exam is $100 for workshop participants, and the prerequisites are a high school diploma and 500 hours of experience in the DME field. If you have any questions, stop by Booth #1314 at Medtrade, or contact a member of BOC's Certification Department at cert@bocusa.org or call (877) 776-2200.
Check out the additional Workshops/Fitters Course
Mike Sperduti's HME Sales Excellence Training
Monday, October 26 | 10:00 a.m. – 4:00 p.m.
Room C211
Speakers: Mike Sperduti, President and CEO, Emerge Sales, Inc.
Mike Sperduti has developed the most intense and powerful sales training program our industry has ever seen. For the First time ever at Medtrade, Mike will teach you his step by step sales process that will show you exactly what you need to do and say to meet your sales quota, income goals and serve an abundance of new patients. Register today and you will learn:
• How to turn a medical facility that you have no relationship with into a referring account in 4-6wks
• The most effective Sales and UpCare technique that will immediately increase your new patient referrals and revenues. (This one strategy will pay for your entire Medtrade experience including airfare. Hotels, meals and fun!)
• How to skillfully handle and overcome objections like "We are happy with our HME current provider" or "It's the patient's choice"• Proven relationship building strategies and conversational talking points that you will put in "your own words" to be brilliant during every customer conversation- from your first meeting to getting you first patient
• How to handle the referral source who plays games with you and NEVER refers a patient
• How to make the closing process easy, effortless and never pressured
• How to win friendship and influence with all gatekeepers
• A guaranteed way to grow your business and win new customers and patients!
Brightree Summit: Tools of the Trade
Oct 26 • 10:00 am – 6:00 pm, session times vary
Join Brightree experts and your peers on Monday, October 26, for nearly a dozen educational sessions, as well as roundtable discussions, ask-the-expert sessions, hands-on training, and a cocktail reception. Registration also includes complimentary access to the Brightree Party at the Tabernacle on Wednesday evening (10/28).
Compression Therapy and Its Application in the Management of Venous Disease
Monday, October 26, 10:00 am – 4:00 pm – C208
Speaker: Judith Brannan, Associate Director of Education/Medical Affairs, SIGVARIS Inc
Approved for 7.5 credits through ABC and 7.0 credits through BOC This workshop will cover the following objectives:
• Describe the anatomy & physiology of the venous system, including pathophysiology of venous disease • Define Chronic Venous Insufficiency (CVI)
• Define Deep Vein Thrombosis (DVT)
• Identify which Diabetic patient will benefit from graduated compression.
• Define Compression Therapy and its application in venous disease & treatment
• Describe indications and contraindications for compression
• Demonstrate proper measuring & fitting of compression garments
• Understand the role of a compression garment fitter
• Identify how to grow your compression business and merchandising
New Foundations, Unlimited Possibilities
Monday, Oct 26, 10:00 am – 4:00 pm – C210
Speakers: Dan Greyn, Senior, Systems Consultant; Gail Turner, Senior Systems Consultant; Joe Simanton, Senior Product Owner; Cole Helmer, Support Specialist, Computers Unlimited
TIMS software from Computers Unlimited is an all-in-one solution for patient intake, claims processing, document management, business intelligence, asset control, financial management and more. During this workshop, attendees will learn about new and innovative capabilities available in TIMS.
• Start the intake process the right way with in-bound document routing and imaging tools
• Extend the power of patient intake with user-defined workflows and customizable forms
• Simplify complex payer billing requirements with a powerful new billing rules engine
• Gain complete control over the documentation and authorization requirements of payers, physicians and patients with a flexible document management system
• Utilize dynamic work lists to super charge business processes and employee productivity
• Measure business and employee productivity with customized reports and Excel pivot tables
• Realize new levels of asset control with the industry's most comprehensive rental equipment management system
• TIMS has gone mobile! Utilize IPad and Android tablets for your medical delivery needs
• Reduce delivery costs with Roadnet Technologies' real-time dynamic routing capabilities Drive new efficiencies for your sleep business with web based CPAP compliance tools
Gain insight on how your unique business requirements can be addressed through using TIMS and CU's application development resources.
Click for more information on Workshop Pricing.