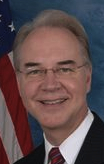 WASHIINGTON, DC – H.R. 5210, the Patient Access to Durable Medical Equipment (PADME) Act of 2016, was formally introduced in the U.S. House last week, with Reps Tom Price (R-Ga) [pictured], Dave Loebsack (D-Iowa) and Peter Welch (D-Vt) as principal sponsors of the legislation.
Like its Senate companion, S 2736, the PADME Act would:
• Delay the second cut for HME items in non-bid areas by 15 months. This would push back the second cut from July 1, 2016 until at least Oct. 1, 2017.
• Replace the bid ceiling for future rounds of bidding with the unadjusted fee service rates from January 1, 2015 instead of CMS' current plans to limit future bid ceilings to the previous bid rates.
• Require CMS to solicit stakeholder input and take into account travel costs, volume, clearing price and information on the numbers of providers serving bid areas as part of rate-setting activities for Jan. 2019 and beyond.
• Require CMS to monitor and report on access issues and health outcomes for Medicare beneficiaries utilizing HME, with updates provided on the CMS website on a monthly basis.
The PADME act differs from the Senate legislation in one respect. While S 2736 advances the start date of the federal portion of Medicaid reimbursement mirroring Medicare rates by three months from calendar year 2019 (Jan. 1) to fiscal year 2019 (Oct 1, 2018), industry champions have instead included a placeholder pay-for to give House and Senate committees an opportunity to consider alternative approaches. See  Rep. Price's press release for more information; text of the legislation can be found here.
In addition to Reps. Price, Loebsack, and Welch, there were 40 co-sponsors at press time, including:
Cathy McMorris Rodgers (R-Washington)
Diane Black (R-Tennessee)
Marsha Blackburn (R-Tennessee)
Rod Blum (R-Iowa)
Charles Boustany (R-Louisiana)
Bradley Byrne (R-Alabama)
Chris Collins (R-New York)
Kevin Cramer (R-North Dakota)
Scott DesJarlais (R-Tennessee)
Tammy Duckworth (D-Illinois)
John Duncan (R-Tennessee)
Renee Ellmers (R-North Carolina)
Bill Flores (R-Texas)
Bob Gibbs (R-Ohio)
Louie Gohmert (R-Texas)
Brett Guthrie (R-Kentucky)
Gregg Harper (R-Mississippi)
Andy Harris (R-Maryland)
Lynn Jenkins (R-Kansas)
David Joyce (R-Ohio)
Mike Kelly (R-Pennsylvania)
Billy Long (R-Missouri)
Blaine Luetkemeyer (R-Missouri)
Markwayne Mullin (R-Oklahoma)
Tim Murphy (R-Pennsylvania)
Kristi Noem (R-South Dakota)
Collin Peterson (D-Minnesota)
Mike Pompeo (R-Kansas)
James Renacci (R-Ohio)
Phil Roe (R-Tennessee)
Austin Scott (R-Georgia)
David Scott (D-Georgia)
Jason Smith (R-Missouri)
Glenn Thompson (R-Pennsylvania)
Pat Tiberi (R-Ohio)
Scott Tipton (R-Colorado)
Ann Wagner (R-Missouri)
Ryan Zinke (R-Montana)
If your representative in the House is not on the list shown above, please reach out to them and ask that they sign on as a co-sponsor for the just-introduced Patient Access to Durable Medical Equipment Act.
You can find contact information for your legislators here.