ATLANTA – Make the most out of your day one (Oct 23, 2017) experience at Medtrade by gaining knowledge at the Certified Durable Medical Equipment Specialist (CDME) workshop. Officials at the Board of Certification/Accreditation (BOC) will cover the scope of practice for the CDME, preparing attendees to take the CDME exam (additional $100 fee) on the final day of Medtrade (Oct 25) and earn the credential.
Michelle Yoon, credentialing operations manager, BOC, Owings Mills, Md, chatted with Medtrade Monday about why attendees should consider the CDME workshop, as well as exactly how they can get it done.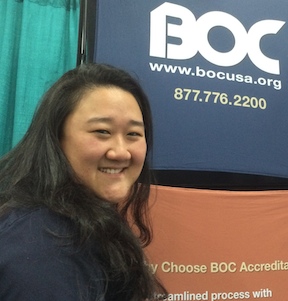 Medtrade Monday: Please describe the process of how someone learns and ultimately passes the "test" at Medtrade to earn the CDME.
Michelle Yoon, credentialing operations manager, Board of Certification/Accreditation (BOC): The BOC offers an "Introduction to the DME Specialist " workshop during Medtrade, which covers the scope of practice of a Certified DME Specialist (CDME). CDME certification demonstrates a broad understanding of the DME industry, including the intake process, product selection, dispensing and setup, documentation, billing, compliance, and performance management. To earn the certification, the CDME exam is conducted during Medtrade. There are two prerequisites to be eligible for the CDME exam: a high school diploma and 500 hours of experience in the DME industry.
Medtrade Monday: What has been the reaction from past workshop attendees who have successfully achieved the CDME?
Yoon: Past attendees have shared with BOC that the workshop was quite extensive and useful and helped them beyond taking and passing the exam. They were able to incorporate information from the workshop into their everyday business practices.
Medtrade Monday: What is the biggest misconception about the CDME certification and process for attaining the distinction?
Yoon: Some people think there is a lot of work and money involved in becoming a CDME. There are only two prerequisites, and once they are met, candidates are eligible to apply for and take the exam. The regular price for the exam is $150, but it is discounted to $100 at Medtrade. After applying, you could become a CDME in as little as a month.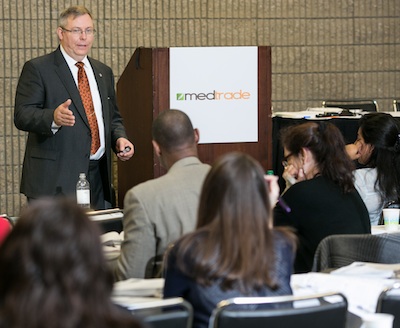 Medtrade Monday: Why is the CDME so important in today's environment?
Yoon: In the current climate, trained and certified DME specialists are highly valued in the DME industry as an assurance of professionalism and quality care for patients and referral sources. Having staff with CDME offers a differentiation in the market and a competitive edge.
Speakers at the workshop will be Jeff Hedges (pictured), CDME and Cynthia Tolson, business development manager, Board of Certification/Accreditation (BOC), in collaboration with MED Group Materials. Anyone who wishes to take the CDME exam at Medtrade on 10/25/2017 from 8:00-10:00 AM, may do so for an additional $100. This price includes the application and exam fees. To qualify, participants will submit their application and documentation to BOC before taking the exam.
Additional Workshops on Day One (Oct 23) of Medtrade
VGM's Breaking Bad 2017 Reimbursement Seminar!
Sponsored by: VGM and The vanHalem Group
Speakers: Dan Fedor, compliance director and Ronda Buhrmester, reimbursement specialist, VGM
Let us help you break those bad reimbursement habits. In this course, Ronda Buhrmester and Dan Fedor will conduct a reimbursement analysis of the most common misconceptions about documentation and billing (codes and modifiers) that have become habit due to the lack of clear guidance from Medicare. This lack of guidance has resulted in internal habits that are not always correct. Let's not just continue doing something because "that is how it's always been done." Ronda and Dan will ensure you have the most updated accurate information, which will enable you to do what is required in the most efficient manner AND earn 0.5 CEUs.
HME Master Sales Training
Presented by: Emerge Sales
Speaker: Mike Sperduti, CEO and Founder, Emerge Sales
This comprehensive Sales Training workshop will be presented by Sales and Marketing expert Mike Sperduti. Mike is a high powered coach, trainer, speaker and sales expert who teaches straight-forward and highly-effective sales and communication training and programs. For 26 years, Mike Sperduti has worked with established and new companies to help them achieve their financial and strategic sales goals. Known nationally as an expert in revitalizing underperforming firms, Sperduti dedicates himself to helping associates achieve peak performance in sales. Attendees will learn: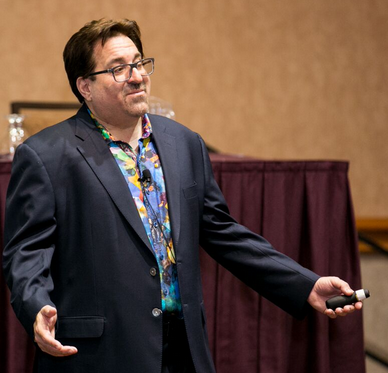 Effective Communication Strategies That Generate New Patient Referrals
Learn the latest sales strategies Mike has developed to succeed in this new era of Healthcare that will help you engineer meaningful messages and marketing collateral that will instantly connect with referral sources – position you over your competition and motivate them to do business with you. You will learn:
• A predictable and repeatable sales process that will give you the confidence, knowledge and skills to be an industry leader in this new era of healthcare sales
• How to use the latest industry trends and referral source market data (based on our proprietary research) in your sales process and messaging to make your company stand out and get their attention
Cold Calling – The Key to Driving New Patient Referrals & Growth
In this exciting session Mike Sperduti will teach you specific communication strategies on how to fill your calendar with new referral sources that will be very interested in meeting with you and engaging them in meaningful conversations that will lead to an abundance of new patient referrals. You will learn:
• How to turn a medical facility that you have no relationship with into a referring account in 4-6 weeks
Getting Inside the Minds of Your Referral Sources So They See You Are the Only Choice for Their Patients
This is a very powerful session – Mike will teach you how to get inside the minds of each one of your referral sources so you can clearly see, hear and feel how they make decisions, what are their unmet needs and wants so you can clearly make proper recommendations that they will instantly see & feel you are the best choice for them & their patients. You will NOT sell them. They will choose you over the competition. You will learn:
• How to use the most effective language skills used by the top Psychologists, Lawyers and Sales people to give you an unfair advantage over your competition.
• Proven relationship building strategies and conversational talking points that you will put in "your own words" to be brilliant during every customer conversation- from your first meeting to closing the sale
How to Close the Sale Every Time and Generate Lots of New Patient Referrals
In this final and most important session Mike teaches you the most powerful closing strategy & technique of all -time. This powerful language pattern has generated millions of dollars in HME revenues and will be a defining moment for your business, career and financial future. You will learn:
• How to make the closing process easy, effortless and never pressured for you & the referral source so always win.
• The greatest closing strategy of all-time that you will instantly implement when you get home and see immediate growth in new patient referrals and your income.