TROY, MI – The WL1 Bidet Toilet Lift from Dignity Lifts earned the New Product Pavilion Providers' Choice Silver Award (sponsored by HomeCare Media) at last month's Medtrade West in Phoenix. The award marks yet another milestone for the Michigan-based juggernaut that already earned a Providers' Choice Silver for a different product called The DL1 Deluxe Toilet Lift.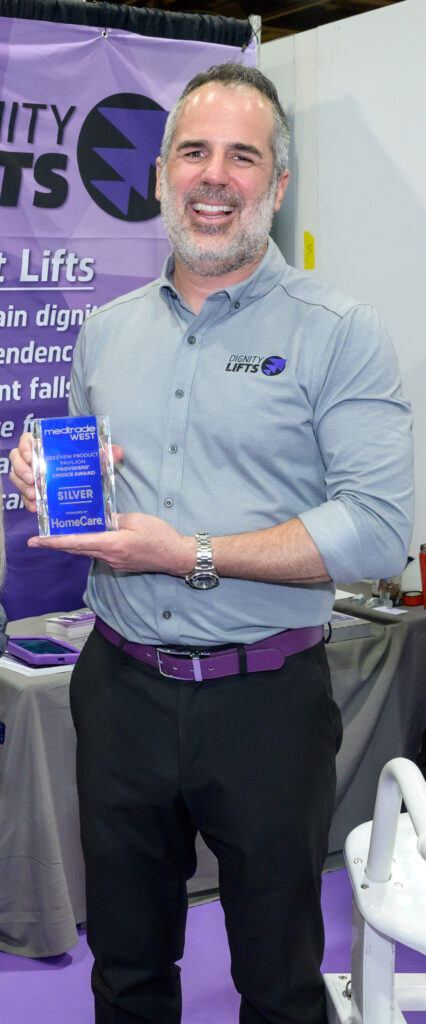 While the Deluxe Toilet Lift – DL1 helps users get up from and down to the toilet, the WL1 Bidet Toilet Lift adds the bidet option and a blow dry function. For both products, there is an undeniable learning curve, precisely because they are something new. Medtrade Monday sat down with Tom Nardone, president of Dignity Lifts to learn more about the product and why it has done so well with Medtrade attendees.
Medtrade Monday: What's the difference between last year's winner at Medtrade East and this year's winner at Medtrade West?
Nardone: In the fall at Medtrade East, we won an award for our DL1, which is our best-seller. This time we won an award for our latest lift, the WL1 which is similar to the DL1 but also includes a bidet and a blow dry function. These functions are important for the hygiene of people who have balance and reach issues. The Dignity Lifts WL1 will pamper users with a warm water wash with adjustable temperature, pressure, and spray location. This toilet lift even has a heated seat and a nightlight.
Medtrade Monday: Why was the WL1 developed?
Nardone: The WL1 was developed because many customers wanted both a lift and a bidet. It took a while to develop because the movement of the lift made it difficult to run plumbing to the bidet. We've got a great solution now that will provide years of durability.
Medtrade Monday: At last month's Medtrade West, how much education was required to make sure that attendees properly understood the product?
Nardone: Toilet Lifts are great products, but you can't sell something that no one has ever seen before. That's why Dignity Lifts is on a mission to show our products to as many people as possible. So far it is going great. We've been really hitting the trade shows where we can meet the most influential people in every industry that will sell our products. In addition to attending Medtrade, we are also attending conferences for skilled nursing, assisted living, independent living, post-acute rehab, nursing, and occupational therapists. At every turn we are meeting people and showing them our lifts.
Medtrade Monday: What has been the reaction?
Nardone: It's actually been a lot of fun and people really love our lifts. OTs love the lifts because OTs often have to deliver the bad news that a patient cannot return home if that patient can't toilet themselves. With Dignity Lifts, that patient can be allowed to go home and age in place. It's a big difference.
Medtrade Monday: What was the most common reaction among Medtrade West attendees?
Nardone: I think the most common reaction to the WL1 Bidet Toilet Lift was "Wow!" often followed by "That's fancy!" This is true. The WL1 is really fancy, but unlike other bidets for the general population, the WL1 has a great reason to exist. Many people cannot bend and reach, so they have difficulty with their hygiene. Without a wash and dry they can end up with infections or fungal issues. We can fix that with the push of a button.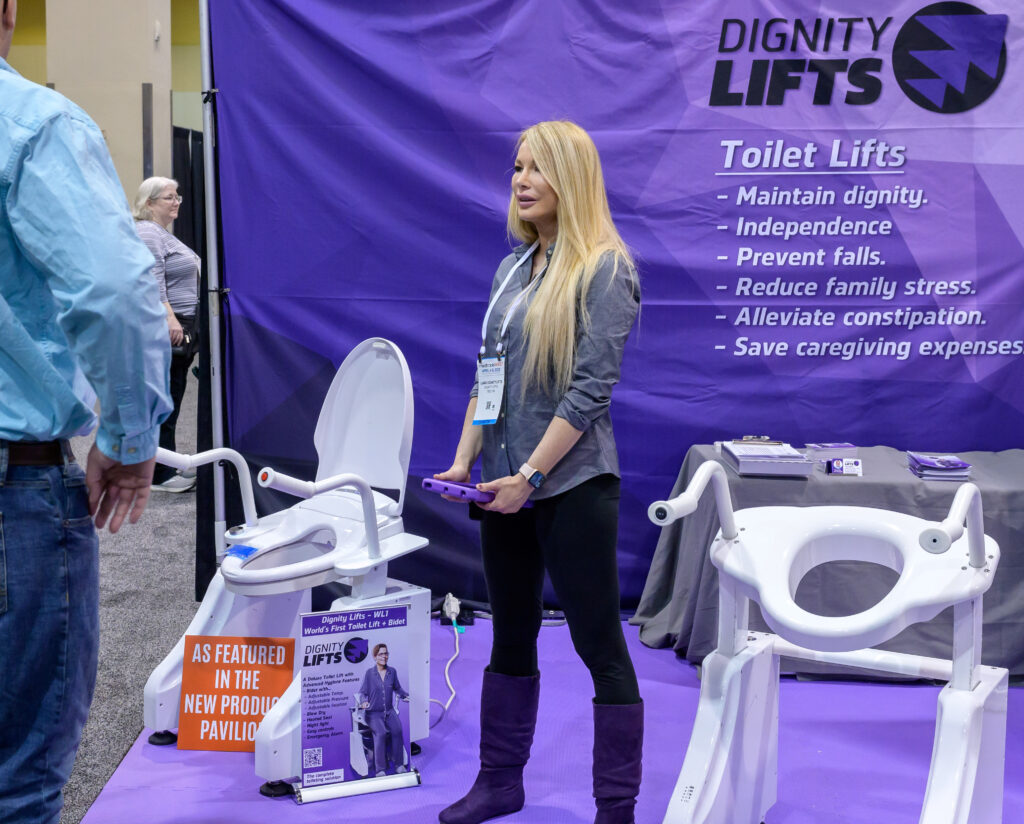 Medtrade Monday: How did the Medtrade West winner come to be thought of, designed, and manufactured?
Nardone: We developed the Dignity Lifts WL1 Bidet Toilet Lift after talking to many toilet lift customers. Some customers had a bidet that they were required to give up, others were having trouble cleaning themselves and wanted a solution. Combining a toilet lift with a bidet became a necessity for our business. Our customers were simply demanding it.
Medtrade Monday: What are your plans for the future of the company?
Nardone: We plan to tackle the toileting issues that face elders. Other companies make great lift chairs and CPAPs, we want to make toileting safer and easier. While other people may not want to get into this type of business, our team is more than happy to talk toileting with everyone and then develop solutions.