ATLANTA – A little more than a month remains until Medtrade convenes Oct 23-25, 2017, at the Georgia World Congress Center in Atlanta. Medtrade is the Fall edition of the nation's premiere HME trade show. "With discount pricing, providers can still save money over day-of-show rates," says Kevin Gaffney, group show director, Medtrade. "It's a wise investment, because the motivation, inspiration, and product ideas from Medtrade can lead to success."
Attendees asked for more "town hall" like sessions, fewer "lecture style" presentations, and more panel discussions (including competitors in some cases!). Organizers introduced the new format at Medtrade Spring 2017, and surveys came back overwhelmingly positive.
The Medtrade 2017 program will incorporate these changes and also have some sessions with a new seating arrangement (see photo) to encourage more interaction and discussion among attendees. Conference sessions are open to attendees with a conference pass (not expo), unless the session is indicated as open to all.
"We make sure we spend as much time in classroom training as possible," says Don Dobbins, owner of Heritage Home Medical Equipment Inc, Wichita Falls, Texas. "It's a great learning experience from top people in the industry. Many of these people are just like you and me. They have just decided to share their experiences with us. The new format introduced at Medtrade Spring 2017, where there is much more interaction with the class, is great."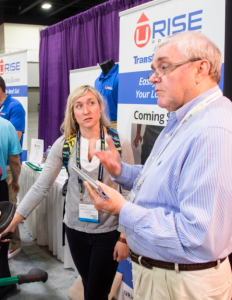 "We've had such an overwhelming response to the new, interactive and crowd-participating panels at Medtrade Spring 2017 in Las Vegas that we are doing it again in Atlanta," says Sarah Varner, marketing director, Medtrade. "Join us at Medtrade and also consider sharing your expertise on a panel, or lead a panel."
Like last year, workshops and educational sessions will take place on Monday (Oct 23), with additional educational sessions on Tuesday (Oct 24) and Wednesday (Oct 25). Show floor hours will be 10:00 a.m. – 5:00 p.m. on Tuesday (Oct 24) and Wednesday (Oct 25).
The show will end Wednesday evening with a special event on the show floor designed to increase exhibitor/attendee engagement. "Providers should also know that Show Floor passes can be obtained for FREE," adds Gaffney. "All you need to do is call up an exhibitor (see list at medtrade.com) and ask. The Conference Pass, on the other hand, is available at Discount Rates until Oct 22. If you want to save money, it's the way to go."