OLD FORGE, PA – Golden Technologies (Booth #1305 at Medtrade) has partnered with CareCredit (Booth #1245 at Medtrade), a provider of promotional healthcare financing, to offer Golden dealers a new financing solution. This collaboration will enable Golden dealers to help consumers acquire the medical equipment and supplies they need while easing the burden when insurance or reimbursements fall short.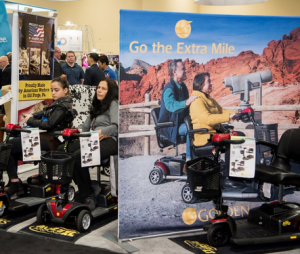 "We are excited about this strategic relationship with CareCredit and how it can best help our retailers. Durable medical equipment retailers often face challenges in helping consumers get an ideal product while working under the constraints of increasing deductibles and rising insurance premiums," said C.J. Copley, Golden's executive vice president of Sales and Marketing. "CareCredit's financing solution program will help consumers cover the costs for retail-cash purchases at a time in their life when they need it most."
Consumers will have the option to benefit from a dedicated line of credit to pay for costs not covered by insurance. The impact of that financial pressure when buying a high-value product can be lessened through the use of promotional financing spanning six, 12, or 18 months or even longer. Retailers benefit by receiving payment in just two days.
"For 30 years, CareCredit has been focused on helping patients get the care they want and need by providing financing options," said Greg Pierce, senior vice president and general manager, CareCredit. "Our agreement with Golden gives their providers a way to help people finance the equipment they need — with convenient, monthly payments — so they can gain a sense of independence, mobility, and belonging."