PHOENIX – J Med Supply Inc. is a DME distributor and wholesale company founded in 2016. CEO John Amirthiah (pictured) started the company in his garage and delivered medical products in his personal vehicle. With dedication and a desire to "Jump Through Hoops" for his clients, he transformed J Med into a prominent west coast presence.
Still relatively new at just six years old, J Med recently signed on as an exhibitor at Medtrade West, scheduled for April 4-6, 2022 at the Phoenix Convention Center. Medtrade Monday sat down with Amirthiah to get the latest on the Buena Park, Calif-based J Med.
Medtrade Monday: What types of facilities are you serving?
Amirthiah: J Med Supply, Inc. has been providing needed medical equipment and supplies to medical providers such as hospice facilities, pharmacies, Medicare providers, long term cares, skilled nursing facilities, retail stores, DMEs, and workers compensation related clients. In fact, J Med supplies to anyone needing medical products whether its wheelchair, oxygen concentrators, basic PPE, or COVID tests.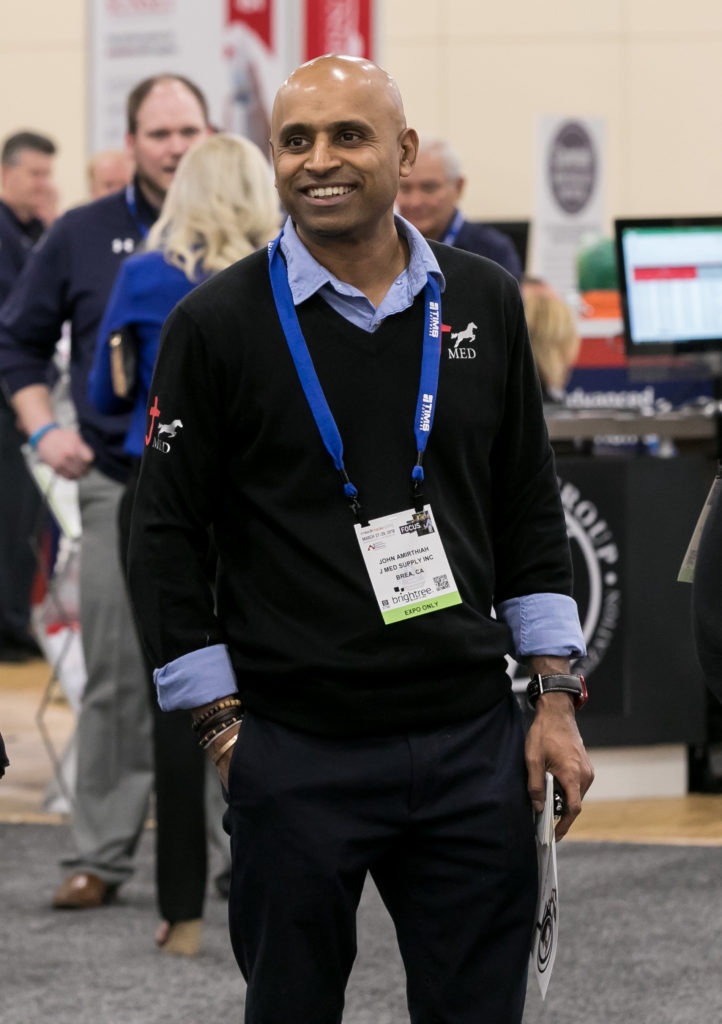 Medtrade Monday: What brands are you distributing these days?
Amirthiah: J Med distributes and delivers all the major DME brands at lighting speed just about everywhere in the Western United States. Our service motto is "Jumping Through Hoops So You Don't Have To", so the customer gets deliveries quickly with a never-say-no attitude.
Medtrade Monday: How have you managed to keep on growing over these last few years?
Amirthiah: Our ability to find products and predict market demands are the key factors that have led to J Med's growth and gaining the trust of our customers.
Medtrade Monday: What are your current expansion plans?
Amirthiah: We have continuing expansion plans for Southern California and are now partnering with manufacturers such as Drive, Mckesson, Medline, Compass Health and others for distribution and the manufacturing of private label DME.
Medtrade Monday: How have you managed the quick delivery?
Amirthiah: J Med has just secured additional warehouse space in Brea, California, a few miles away from our new headquarters and distribution center that just opened a few months ago in Buena Park, Calif. We are strategically located near all major freeways, bordering Orange and Los Angeles Counties. These new locations will help J Med's lighting speed delivery promise to clients and patients.
Medtrade Monday: What other irons do you have in the fire?
Amirthiah: In addition to J Med DME Supply, I am the owner of Motion Complex Rehab, located in Brea, Calif., which is a nationally accredited Medicare provider that specializes in equipment for seniors and for patients requiring rehabilitation care. With J Med and Motion Complex Rehab we can better serve our community and keep our "Jumping Through Hoops So You Don't Have To" promise.
Medtrade Monday: How many times have you exhibited at Medtrade West and why did you decide to commit for 2022?
Amirthiah: This will be our third year as an exhibitor and three years of hosting the "Gratitude J Mixer" at Medtrade West. Our J Mixer is for clients to socialize and network with fellow industry professionals. The J Med Mixer prize giveaways have included a $500 gift voucher for a stay at the Hyatt anywhere in the world. Again, this year we will be hosting the mixer at the rooftop revolving lounge at the Hyatt. We believe hosting this mixer is a way of saying thank you to all the healthcare providers in our community. The J Med booth at this year's Medtrade West will highlight the service we provide and products that are in high demand. Additionally, we will be introducing our private label Joy health care products.