ATLANTA – Medtrade East in Atlanta wrapped up on Oct. 26 with exhibitors praising the show's attendees. Tire kickers are prevalent at every trade show, but the ratio at Medtrade East is distinctly in favor of manufacturers showing their wares. Check out the opinions—and the companies—that had positive experiences and are now setting their sights on Medtrade 2023 in Dallas.
"The show has been strong. Customers are coming to the booth with a discussion in mind. They want to know how the industry is affected by the supply chain problems. We have been very mindful of the supply chain and we've streamlined the manufacturing process with that in mind." – Ken Perry, F&P Healthcare, Irvine, Calif.
"We've been super busy all day long. It's been great and we're very happy. We've seen dealers from California to Canada. We've seen serious and eager dealers. We will be in Dallas next year. We wouldn't miss it." – Bradley Yeates, Stander, Logan, Ut.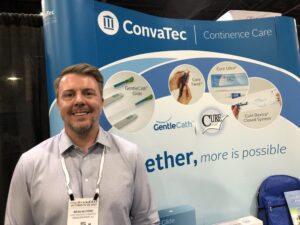 "Medtrade has been great with constant traffic. We've seen existing customers looking for new stuff and a lot of people looking for additional revenue streams. We can do marketing for urologicals, but Medtrade allows manufacturers to begin the conversation. We'll be in Dallas and we think it's going to be a great move for the show." – Beau Alford, Convatec, Bridgewater, N.J.
"The people we've seen have not been tire kickers. They love our automatic folding scooter. They love it." – Chin Hsien Lin, Solax / Guangdong Prestige Technology Co., China
"We are a first-time exhibitor and we've been having great success at Medtrade with several orders placed. We usually aim at big box stores, but we wanted to open up to the mom-and-pop shops and medical distributors who serve them." – Dan Guthrie, Miracle Mobility, Clearwater, Fla.
"It's been a good show and we've seen existing and new customers. We've met with serious people. I am happy to give Dallas a try." – Rick Long, TeamDME!, Brentwood, Tenn.
"Medtrade has been fantastic. We've seen serious and engaged people. This is one of the only shows where people wanted to buy our product now. This is our first Medtrade and we are pleased." – Jay Cranston, Signifier Medical Technologies, Needham, Mass.
"The show has been busy. We've already made sales right here at the booth. Attendees even want to buy our show models. Can you quantify the relationships at Medtrade? It's really invaluable. We've had huge accounts come out of Medtrade. We are always happy to be here because there is real value." – Chani Meyer, president, Supernal, a Division of Transfer Master, Postville, Iowa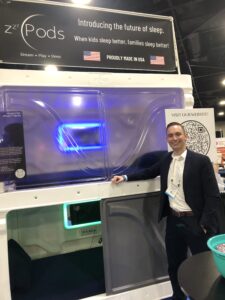 "Medtrade East has been fantastic. We've met people who we will likely work with in the future." — Keegan Good, ZPods, St. Charles, Mo.
"We're signed up for Dallas and we've had serious inquiries. Most people seeing us leave with a positive attitude about our products. I have not seen any negativity at the show." – David Talmage, RemZzzs, Jackson, Mich.
"We've had really nice foot traffic at Medtrade East with serious inquiries. There is a much better overall attitude about the future of the industry. The supply chain woes are going away. People are extremely positive and very receptive to our product." – Matt Miller, Resvent, Leawood, Kan.
"The show has been good for us and worthwhile. We've had good reactions to our product and actual orders written here at the booth." – Darrel Druckman, SCS Direct, Trumbull, Conn.